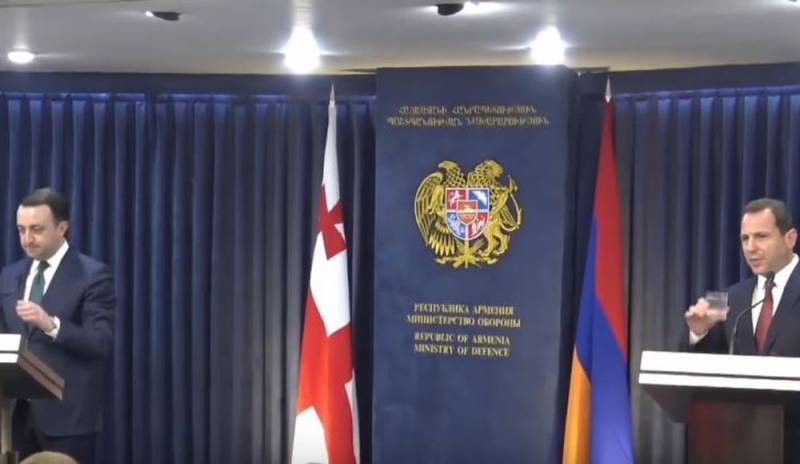 On February 27, 2020, the head of the Georgian Ministry of Defense, Irakli Garibashvili, at a joint press conference with his Armenian counterpart David Tonoyan in Yerevan, said that Armenian troops would participate in the NATO Noble Partner-2020 exercises ("Decent Partner"). It is not difficult to guess that the main purpose of these exercises, conducted by the Alliance and its allies in Georgia, is to influence Abkhazia and South Ossetia.
It should be noted that the first such NATO exercises were held in Georgia in May 2015. Then the exercises were held on the territory of the Vaziani military base near Tbilisi. And every year the number of participating countries, forces and means, is growing steadily.
I am glad that Armenian troops will take part in the Noble Partner 2020 multinational exercise, which will be held in Georgia with the participation of representatives of NATO member countries and partners
- said Garibashvili.
We agreed that there is no alternative to the development of our friendly relations, there is no alternative to the peaceful resolution of conflicts, as well as ensuring stability in the region
- added Garibashvili.
He expressed hope that Yerevan will continue to participate in such exercises in the future. At the same time, during this two-day visit, Georgia and Armenia signed an agreement on cooperation in the defense sector for 2020.
It should be clarified that since 1992 Armenia has been a party to the Tashkent Pact ("Tashkent Treaty") and is a member of the Collective Security Treaty Organization (CSTO). As for the head of the Ministry of Defense of Armenia David Tonoyan, in 1997 he graduated from the Military Diplomatic Academy under the Ministry of Defense of Russia (this is his second education).
It should be noted that many media outlets cite only the Georgian minister, while not citing the statements of the head of the Armenian military department. In addition, few people recall that Armenia is dependent on Georgia and isolated from Russia.
I want to express my deep gratitude to my colleague for the first official visit to the Republic of Armenia in the South Caucasus region
- said Tonoyan.
It (program for 2020 - ed.) Covers the areas of military education, social protection of military personnel, peacekeeping and mountain training, and an agreement was reached on expanding cooperation in a number of other areas that are not yet included in our bilateral program
- explained Tonoyan.
Armenia and Georgia in
political
cultural
economic
areas and security areas are crucial for each other
- summed up Tonoyan.