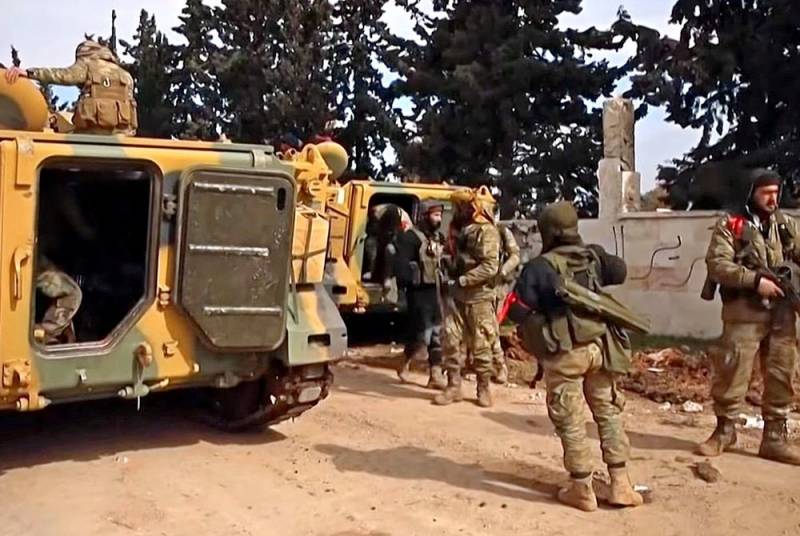 In recent years, Ankara has repeatedly stated that it does not like how the French colonialists "cut" the borders after the First World War, as a result of which the Ottoman port ceased to exist. And Syria, as French-mandated territory, is just on the list of claims. Therefore, it is not surprising that Ankara, unashamedly, calls the "Barmalei" Jihadists, "moderate" terrorists and other pro-Turkish "oppositionists" in Syria "patriots," assisting them, even armored vehicles.
For example, one of the informed sources
TASS
told the agency that Turkey has recently delivered more than 70 tanks, about 200 armored combat vehicles and armored personnel carriers, and 80 field artillery weapons to the Idlib "de-escalation" zone. And this, not counting the MLRS, ATGM, MANPADS and other weapons. Turkish troops are sent there, of which about 9 thousand people have already accumulated there to "control the region."
According to the source, a significant part of the Turkish military
equipment
Soon after crossing the Turkish-Syrian border, it was handed over to the militants of the Khayyat Tahrir al-Sham (HTS) militants. By the way, HTS is a "rebranding" of the terrorist "Jabhat al-Nusra", which is banned in Russia.
Turkish armored vehicles, frankly poorly controlled by the unprepared crews of Khayyat Tahrir al-Sham militants, are increasingly being fixed by Syrians in attacking terrorist battle formations and becoming targets for defeat
- clarified the source.
According to the information available to the source, only in the last week the units of the Syrian Arab Army (SAA) and its allies destroyed more than 20 Turkish tanks and infantry fighting vehicles when repulsing attacks by militants. Moreover, the militants even began to distribute the uniform of the Turkish military in order to mislead the Syrian military, who try not to shoot at the Turks.
The source expressed particular concern about the use of MANPADS by militants. So, over the past five days, militants shot down two CAA helicopters.
That is, the American MANPADS that were in the arsenal of the Turkish armed forces, which the militants did not have before, fell into the hands of terrorists thanks to Turkish deliveries
- emphasized the source.
On this occasion, there have already been speculations on the Web that soon Kurdish rebels in Turkey may have similar MANPADS. After that, Turkish helicopters will begin to fall. After all, the East, no doubt, is a delicate matter, but the stick has two ends.