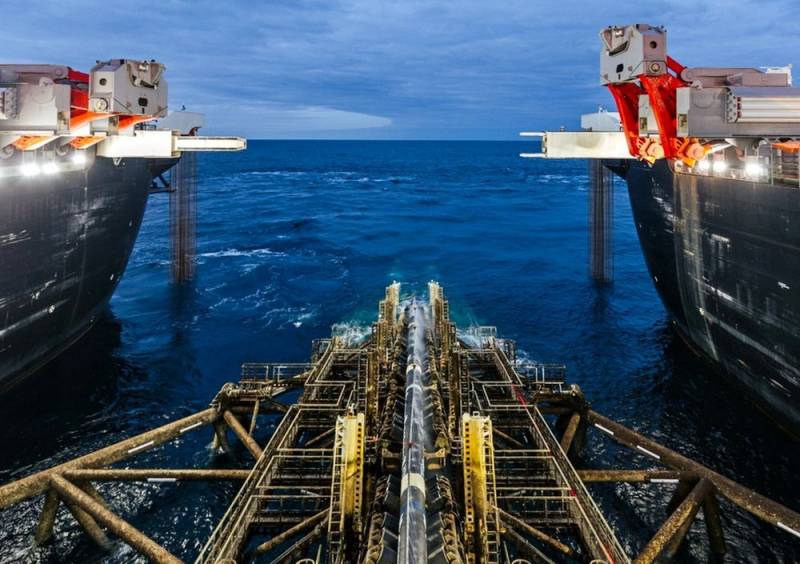 Recently
сообщалось
as the final deadlines for launching the Nord Stream 2 gas pipeline were called in Berlin. And so, the deputy head of the Russian Foreign Ministry, Alexander Pankin, said that Moscow would successfully complete the specified gas transportation project, despite Washington's sanctions.
We are confident that, despite the pressure exerted by the United States, the construction of the Nord Stream-2 gas pipeline will be successfully completed. Russian Foreign Ministry intends to contribute as much as possible to this
- said Pankin
RIA News
.
It must be recalled that before this, the Handelsblatt German pro-American daily business newspaper distributed
information
that Washington intends to introduce new sanctions against Nord Stream-2 if Moscow decides to complete it.
It should be added that the Akademik Chersky crane-assembly pipe-laying vessel (KMTUS) left the port of Nakhodka and headed for Singapore. This is evidenced by data from marine navigation resources. For example, Vesselfinder reports that the "Academician Chersky" left Nakhodka on February 9, 2020. Arrival in Singapore is expected February 22, 2020. By the way, the mentioned vessel belongs to Gazprom Fleet LLC - a 100% subsidiary of PJSC Gazprom.
It should be noted that as of January 1, 2020 this vessel was not ready for operation as a pipe layer, since it did not have the necessary welding and installation equipment. Retrofitting the ship was estimated at 873,5 million rubles. And now, now it is heading for Nord Stream-2.