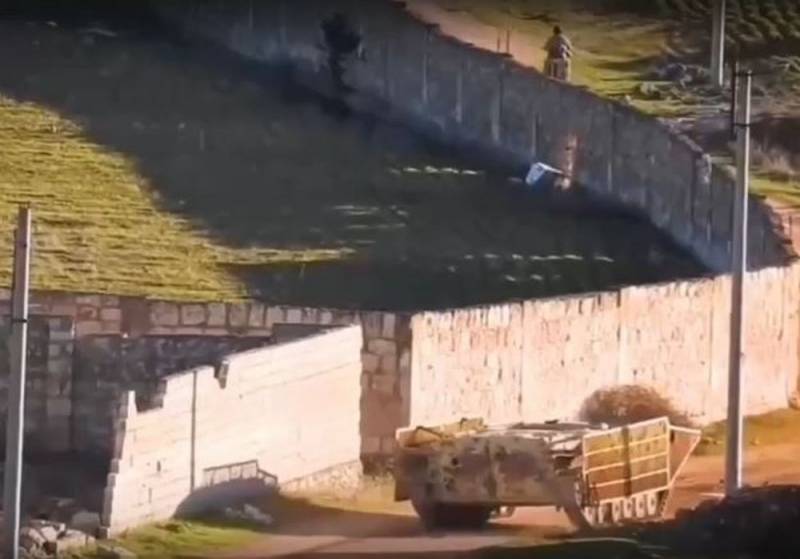 A video of militants from the Syrian province of Idlib is actively distributed on social networks, which demonstrates the undermining of the positions of the Syrian Arab Army (CAA) with the help of a mined infantry fighting vehicle (BMP). The video shows how the indicated BMP, without a tower and under the control of a suicide bomber among jihadists or "moderate" terrorists, moves at high speed along a stone fence in the direction of buildings occupied by CAA troops.
According to statements sympathizing with the militants, the events in the video take place in the western part of the de-escalation zone. The attack of the "shahid mobile" was carried out on February 6, 2020 in the city of Nairab (it is located west of the city of Sarakib) by the militants "Khayyat Tahrir al-Sham" (KHTS - the former "Jebhat al-Nusra", which is banned in Russia). It is also reported that as a result of the sabotage, several CAA troops were killed.
Moreover, the number of victims, and whether they were at all, is not officially known. There are no comments from CAA either. Moreover, not a single group of "oppositionists" has so far claimed responsibility for this.
So far, only
one
, and it's hard to disagree that blood continues to pour in Syria. And this will continue until the SAA completely liberates the entire territory of its country from militants. By the way, the large-scale offensive of the SAA in the province of Idlib successfully continues.