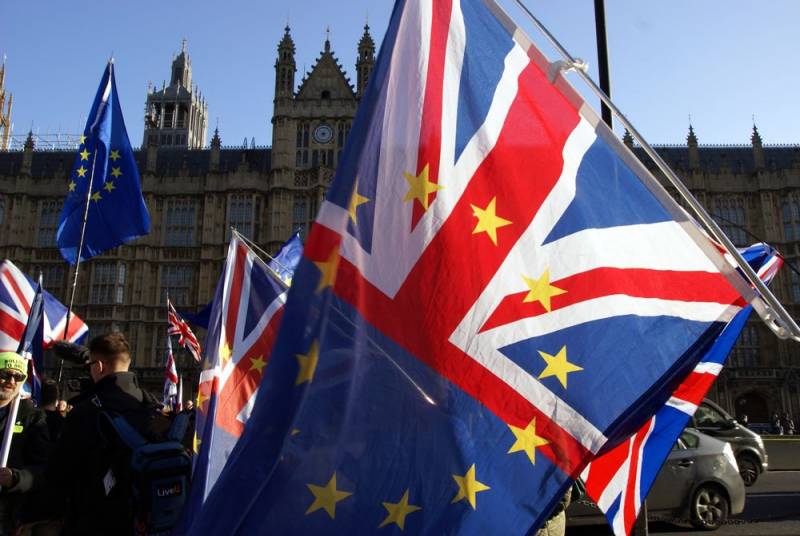 At 23:00 London time on January 31, 2020 (2:00 February 1 Moscow time), the UK will cease to be a member of the European Union (EU). 3,5 years have passed since the Brexit referendum, the release of Misty Albion from the EU. The clock projected on Downing Street (the residence of the Prime Minister of Great Britain), counts the remaining time.
It should be noted that the UK is so happy about this event that they even issued a 50-pence coin dedicated to Brexit. Moreover, British Prime Minister Alexander Boris de Pfeffel-Johnson (Boris Johnson) has planned to hold a cabinet meeting in northern England, where he is going to discuss "prosperity and new opportunities." An hour before the official Brexit, Johnson will speak to the nation and talk about "a great moment for the country and a moment of hope." Will there be words in his speech about the "end of European slavery", whether the fireworks will start and whether this day will be festive, is not specified.
Moreover, on the territory of continental Europe, no one is going to hold any special events. Only a press release on Brexit is expected. This is not surprising, because from Brussels and other capitals they have repeatedly stated that they regret the decision made by London. But on January 31, 2020, the flags of Great Britain, near the buildings of the European Parliament (Strasbourg, Brussels and Luxembourg), will be officially removed. True, without special ceremonies, although one of them will be sent to the EU History Museum (Brussels).
After that, the UK and the EU will begin a transition period. It will last until December 31, 2020 and is necessary to address a number of issues (the conclusion of a new trade agreement, the "utryasy" of access to fishing areas, and others). Until this time, the UK will still be in the customs union and the single EU market, but it will lose its voting right in the European Parliament and the European Commission. By the way, the new seven-year budget of the EU will begin to operate on January 1, 2021.