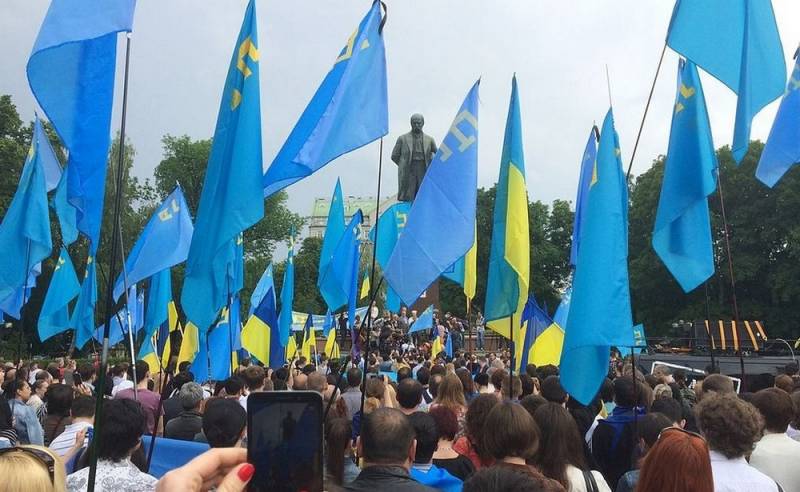 The ability of the leaders of the so-called "Mejlis" * of Dzhemilev and Chubarov to organize the most vile provocations has long been no secret.
There was no exception to the "dignity march" planned by these figures for May 2, which, according to the idea of ​​the organizers, should pass from Ukraine to the territory of Crimea at the Chongar checkpoint, despite the presence of Russian border guards.
Dzhemilev, who is also a deputy of Ukraine, does not hide the provocative nature of the action:
The risk will be quite large, so you should not send young people forward, but those who have already lived.
According to Refat Chubarov, his partner in dark affairs and such provocations, the organization's members, as well as people's deputies of Ukraine and some "Western partners" will be in the forefront.
It should be noted that over the past four years, all the shares of the Mejlis have damaged not only the image of Ukraine, but also its
the economy
.
It is enough to recall the "blockade" of the Crimea launched by Dzhemilev and Chubarov, thanks to which Ukrainian manufacturers were forced to finally leave the peninsula.
The head of the Crimean regional national-cultural autonomy of the Crimean Tatars, Eyvaz Umerov, condemned the plans of the provocateurs and noted that even the fascists did not resort to such methods as throwing the elderly forward against their fellow citizens.
In conclusion, it is worth saying that provocations remained the only way that Dzhemilev and Chubarov thrown into the trash can draw attention to their extremist organization.
* - extremist organization banned in Russia