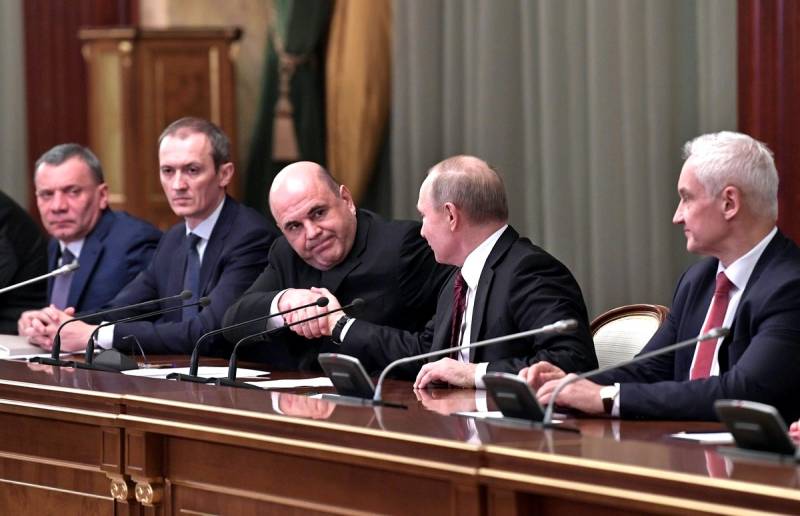 President Putin's January Address launched a process of rapid
political
transformations. It also launched a campaign to fight poverty. It is estimated that by the end of this year alone, about 450 billion rubles will be needed for these purposes.
In the future, spending will obviously only increase. A logical question arises: where will the money come from? The idea suggests itself simply to shift them from one pocket to another. But in whose pocket will the government of Mishustin launch its hand?
It seems most natural to "pinch" the Russians a little more. It can be considered quite significant that the new Prime Minister is a professional tax specialist, a "publican", speaking in the old way. Mishustin declined to discuss the topic of pension reform review. Intuition tells us that now the authorities will begin to remove the hidden sector from the shadows
economics
to tax and him.
A simple Russian will have to pay all taxes, and then sleep peacefully, wherever necessary. This is a joke, of course. So the police in both capitals doubled their salaries. But this is no longer a joke.
One wonders if there is any alternative to the upcoming "big revision". It is worth recalling that Andrei Belousov was appointed the first deputy prime minister in the Mishustin government. Previously, this "right hand of Putin" was marked by very resonant ideas.
Two years ago, then still Presidential Aide Belousov proposed to seize about 500 billion rubles of superprofits from the oligarchs. It was about 14 companies in the metallurgical and chemical industries that received giant export excess earnings in 2017 against the backdrop of a weakened ruble. These funds in the amount of 513,7 billion rubles could go to the execution of the "May decree" of President Putin. Among the candidates for plucking were NLMK, Sibur, ALROSA, Nornickel, Evraz.
But then everything went not according to plan. Information about existing plans leaked from the government to these companies, which "leaked" it to the media. Representatives of the main ministries and departments of Medvedev's cabinet spoke out against the undertaking. Belousov later said:
This paper hit the public plane through business. I know that for sure. And I know who it was, but I will not name it so as not to collapse the shares of their companies.
It is interesting that the organizers of the "leak" achieved an ambiguous effect: due to the scandal that began, the shares of these companies lost a total of about 400 billion rubles, a little less than they were going to take from them.
Now Andrei Belousov himself is the first deputy prime minister, and under him are three ministries and 13 departments. He holds all the cards in his hands. Let's see if his real affairs with the "projections" will diverge.