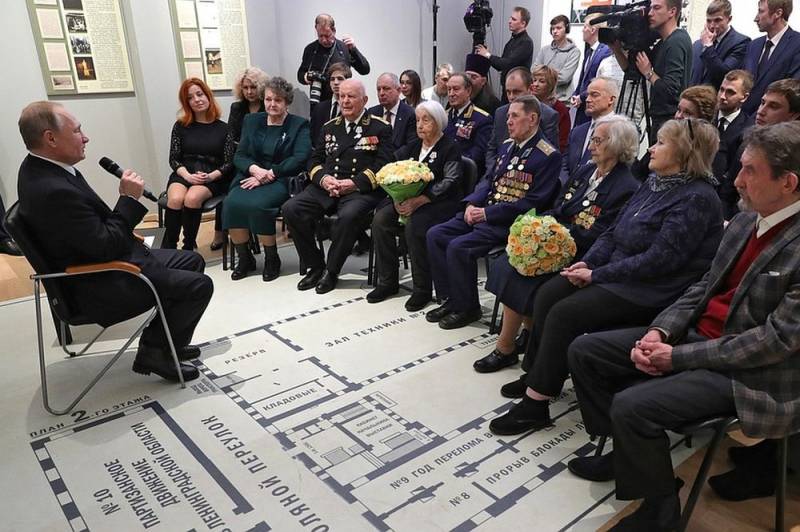 Western Attempts
rewrite
history does not go unnoticed in Russia. On January 18, 2020, Russian leader Vladimir Putin held a meeting in St. Petersburg with veterans of World War II and representatives of patriotic organizations. This event took place during a visit by the President of the State Memorial Museum of Defense and the Siege of Leningrad.
Before the conversation began, the head of state handed over to the veterans an anniversary medal "75 years of Victory in the Great Patriotic War of 1941-1945". He recalled that on January 18, 1943, the troops of the Leningrad and Volkhov fronts broke through the blockade of Leningrad. After which he thanked the veterans and promised to open a center for archival documents and photographs about the Second World War, which will be open to both Russians and foreigners.
And we shut up the filthy mouth to those who are trying to rewrite history, misrepresent it and belittle the role of our fathers and grandfathers, our heroes, who died defending their homeland and almost the whole world from the brown plague, from Nazism
- Putin said.
We will not allow these attempts to present history in a completely different light.
- Putin added.
I want to emphasize again. This rotten mouth, we shut up these documents forever, so that it's not disastrous
- Putin stressed.
Putin noted that purposeful work is being carried out in the West to suppress the truth. Objective information is not disseminated, but new, alternative ones are invented. According to the head of state, the work of the above center will bring the truth to people around the world.