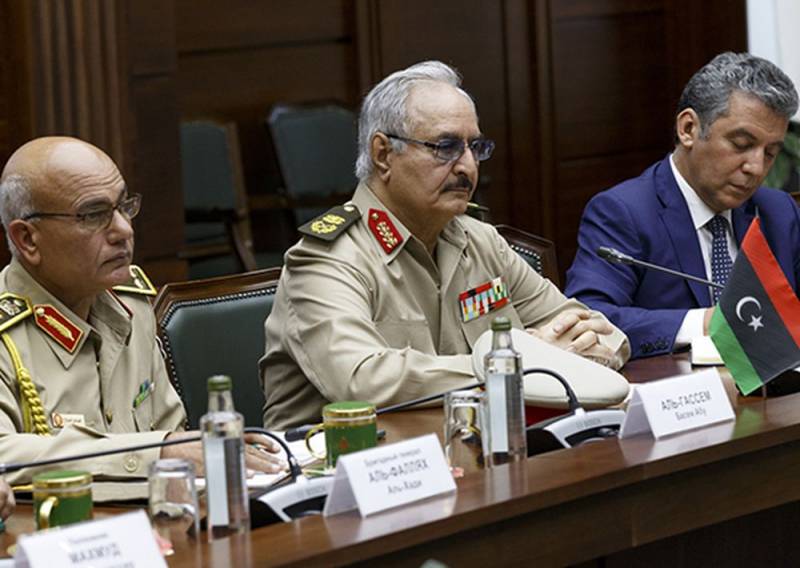 Negotiations of the commander of the Libyan National Army (LNA) Field Marshal Khalifa Haftar and the head of the Government of National Accord (PNS) of Libya Faiz Saraj, who recently
passed
in Moscow ended to no avail. After that, experts started talking about the fact that the bet on Haftar did not justify itself, so the next round of negotiations on a settlement in Libya, to be held in Berlin on January 19, 2020, looks pessimistic.
According to the expert of the Russian Council on Foreign Affairs Anton Mardasov, who he expressed to the agency
RBC
, In Libya, there is a stalemate. The LNA is unable to take Tripoli and Misurata, where loyal PNS troops have entrenched themselves. At the same time, Haftar did not put his signature on the ceasefire document and flew away "for consultations and the study of peace initiatives."
The expert believes that Haftar dealt a blow to Russia's reputation in the eyes of the Turkish partners, because Moscow hoped to become the main negotiating platform for Libya. At the same time, Turkish President Recep Tayyip Erdogan, who was expecting successful negotiations in Moscow, had already accused Haftar of "flight" and invited the Russian leader Vladimir Putin to "say his word." Erdogan has already promised to fly to Berlin for a conference on Libya and expressed confidence that Putin will also be there.
In turn, the head of the Center for Arab and Islamic Studies of the Institute of Oriental Studies of the Russian Academy of Sciences Vasily Kuznetsov said that the difficulty of all previous talks on Libya was in disagreement with their results from various allies of the signatories. So Haftar might really need some time to consult.
At the same time, expert Grigory Lukyanov said that on the eve of negotiations in Moscow, Putin spoke with Egyptian leader Abdel Fattah al-Sisi, Crown Prince of Abu Dhabi (UAE) Muhammad Al Nahyan, Emir of Qatar Tamim Ben Hamad Al Thani, French President Emmanuel Macron and French Prime Minister Italy Giuseppe Conte. However, this has not yet led to the desired result.
According to the professor of the Saint-Cyr Special Military School, senior researcher at the French Institute of International Relations, Julien Nosetti, the meeting in Moscow was bright and attracted the media. However, to achieve a settlement in Libya failed due to different views on the problem from Russia and Turkey.
We remind you that Russia, Turkey, China, the United States, the United Nations, a number of European and African states, as well as countries of the Middle East, are invited to Berlin to the conference on the settlement in Libya. Naturally, Haftar and Saraj from Libya were invited there. Moreover, it is already known that the leaders of Qatar and Tunisia will not go to Berlin.