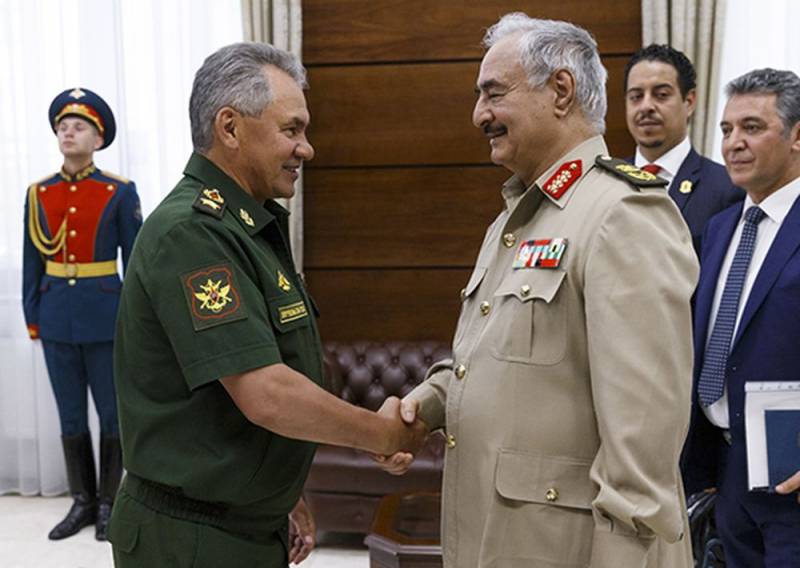 Recently, the American media
сообщили
that the Libyan National Army (LNA), under the command of Field Marshal Khalifa Haftar, allegedly rejected the offer of Russian leader Vladimir Putin and Turkish President Recep Tayyip Erdogan to end hostilities and continued the offensive on Tripoli and Misurata. And now, Libyan sources inform that Haftar is already in Moscow, where he should hold talks with the head of the Government of National Accord (PNS) of Libya, Fayez Sarraj, who is supposed to arrive in the Russian capital on January 13, 2020.
It should be noted that information about Haftar and Sarraj was distributed
RIA News
referring to its sources. At the same time, the LNA and the PNS before this really announced a ceasefire from 00:00 on January 12, 2020 local time (01.00 Moscow time). Moreover, the parties promised to respond "in kind" to any violations. But in any case, this can be considered the fulfillment of the requirements of Putin and Erdogan for immediate negotiations.
Bloodshed in Libya lasts from the spring of 2011. Moreover, after the murder of Muammar Gaddafi and the dismantling of the Jamahiriya, this country actually ceased to exist as a single state. By the way, this is the second civil war that began in the spring of 2014 as a result of the fact that the "revolutionaries" could not agree among themselves.
Dual power is now in Libya. The western part of the country is under the control of the PNS - these are Islamists, which the UN recognized. The eastern part is controlled by the popularly elected parliament of Libya, which sits in Tobruk and to which the LNA submits.
Some Russian experts have already commented on what is happening. For example, according to political scientist Konstantin Belovodsky, the cessation of hostilities in Libya is Putin's merit.
Silence in Libya is a merit of Vladimir Putin
- quoted by the political scientist Russian media.
At the same time, the political scientist is sure that "the days of the illegitimate PNS of Libya are already numbered." Moreover, the Libyan PNS is well aware of this.
The lawful parliament and Haftar not only have powerful support from the population, but also international support, which, incidentally, Russia also provided them
- explained Belovodsky.
For objectivity, it should be added that the member of the Supreme State Council of Libya (advisory body) Belkasem Abd al-Kadir Debris in an interview with RIA
News
stated that Putin and Erdogan "are seeking to resolve the conflict in Libya," but Egypt, the UAE and France (supporting the LNA) are "implicated in bloodshed." So we will follow the development of events with undisguised interest and inform our readers, because Russia is gradually turning into the main negotiating platform for a settlement in Libya.