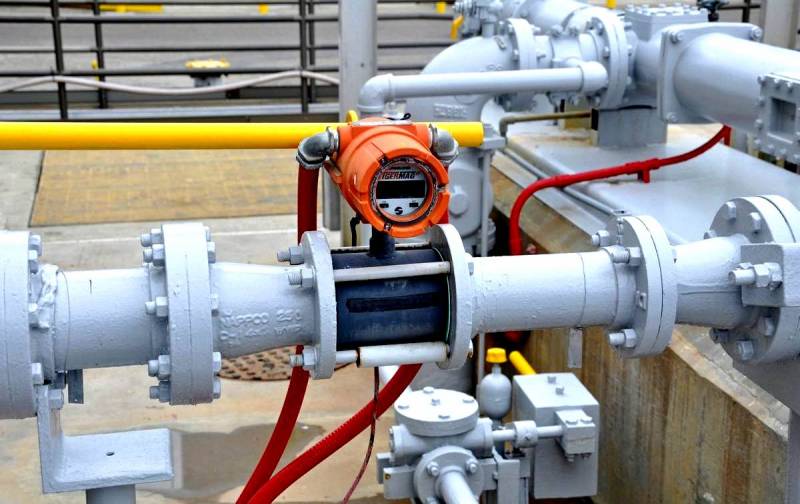 The negative assessments that rained down on all sides of the conclusion of a new transit agreement between RAO Gazprom and the Ukrainian side can, of course, be understood ... After all, what a good opportunity was to "put in place" our neighbors, which had pretty much gotten our nerves, "Show them who is in charge," and ... So what? Despite all the obvious, at first glance, deficiencies and disadvantages for our country of the agreements reached, it is still worth taking a second look. Unclouded by emotions and directed to the future, and quite close. And at the same time reflect on several questions, objective answers to which can seriously change the perception of what is happening.
It may even lead to the understanding that, having made quite serious concessions and sacrifices, Russia now makes an attempt to achieve much more serious and ambitious goals than the next "education" of arrogant and greedy "non-brothers" with the help of a gas pipe. Moreover, an attempt that has a very real chance of success.
Why doesn't Kiev celebrate victory?
Contrary to what seemed to be a uniquely winning turn of events, there is no explosion at all of Russophobic-"patriotic" enthusiasm in the style of "over-reliance" and "thought-blowing", which are often manifested on much less significant occasions. In order to see this, it is enough to monitor the local media, which I personally have been doing regularly and in depth the last few days. The attitude towards the agreements reached is more than restrained. It is understandable - in fact, Kiev did not win any victory. He simply prevented (rather even delayed) a complete defeat. After all, they promised to "stand up to the last for national interests" and to knock out a 10-year contract from "Muscovites", all payments on the courts and many more "goodies". The output was completely different. According to the classification of the unforgettable Ostap Bender, this, of course, is not "from a dead donkey's ears", but certainly not "a key to the apartment where the money lies." Moscow made it clear - exactly how much it still intends to tolerate Kiev in its "partners". And the key word here is "bye" ... Actually, the main speakers of the Ukrainian side on this issue do not hide their own disappointment and deep concern. Yury Vitrenko, Executive Director of Naftogaz, openly calls the contract a "compromise that is difficult for both parties." Yes, they got half of what they demanded and, most importantly, for an extremely limited period. Moreover, according to Vitrenko, Naftogaz, as a state-owned company, had to appear in one of the parties to the deal, because Gazprom refused to sign anything with the newborns by local operators, not wanting to "take over all the risks of Ukrainian legislation and regulation, especially the risks of changes in the regulatory framework that can happen every day ... "This is a literal quote from Vitrenko.
"Throwing away" the Russian side, disrupting supplies to Europe or training something of the same kind, then blaming the "separate operator of the gas transmission system", which by that time will have a trace of cold, will fail. Ukraine will be responsible as a state. The result obtained at the exit turned out to be so pale and slurred, so similar in the eyes of the "patriots" to the next terry "harass" that the very Vitrenko immediately began to flood with the nightingale about his intentions to fully demand in "international arbitration" from Russia for "assets in Crimea, which belong to the Naftogaz group. This, they say, transit agreements (where there is a clause on the "recall of arbitration and legal claims against each other, where the final decision has not yet been made") does not apply! Great again ... "Logic" in Ukrainian. With all this, I would like to ask a question: What would a refusal to transit give our country specifically on the "Ukrainian front"? Some may think that after an ominous hissing came from the empty pipes, consumers would turn off (which, incidentally, is far from a fact), and prices for "blue fuel" would soar even higher, the people of Ukraine in in a single impulse would rise and dare the "Maidan" power and its current last ones? Not funny, gentlemen ... Not funny even than Zelensky. The maximum, to which something like this would lead, is to a new round of animal Russophobia, which has just recently calmed down in the "uncovered" area. Believe me, at the current level of brainwashing of the "society" there, it would have worked. What else? The money that will be "fed"
economy
to say the least, an unfriendly state? Well, if you really demonstrate real integrity in this matter, then you need to start with the supply of petroleum products. And not only to Ukraine, but also to Belarus. And also some others, I will not list. Transit is an important, but far from the only "help" to Kiev, believe me. And, by the way, the option with a transit of 60, and even more so, 40 billion cubic meters a year by Ukrainian experts was once considered as "pessimistic."
Why is Washington not happy?
However, much more interesting than the languid and crumpled "joy" of Ukraine, for us is the reaction of those who in reality "rule the ball" in this country - the United States. It would seem that there must be no limit to jubilation: the interests of the "allies" were defended! It's just right to arrange a parade with fireworks on your Thanksgiving ... But no. You can't hear something victorious fanfare. And all because for Washington, any (that is, absolutely any!) Option of continuing the transit of Russian gas to Europe is nothing more than a blow from the sickle to the very place that you thought about. This winter, the "unreliability" of our Gazprom was to be proved, and the "need to diversify supplies" in order to "strengthen energy security" was to become an axiom at all. At that time, "saving" tankers filled to the top with LNG were already striving for a freezing Europe across the ocean ... Last month, the Americans literally filled the Old World with liquefied "blue fuel", bringing its export volumes there to almost 3 billion cubic meters. The United States is forced to literally impose its gas on European consumers, while dropping prices to utter indecentness. That's just such a massive expansion - not at all a reason for their joy. Firstly, the price of LNG that has fallen below a certain limit makes its production simply unprofitable. This problem is now fully faced by Australia, which has plunged crazy money into this industry and suffers huge losses as a result. But it's much more interesting for us just "secondly": at the current stage, losses in overstocked LNG Europe are borne by just local traders, forced either to sell fuel at a loss or to refuse contracts. At the same time ... be sure to pay the price of liquefaction of overseas fuel that was unnecessary to anyone!
Do you think this situation will contribute to the growth of popularity of American LNG in the Old World? While the United States is trying to "survive" Gazprom from there, they have already lost their main, vital gas market - China. And he went there ... well, you all know exactly who. This winter was supposed to be the Rubicon for European investors, having crossed that they would refuse to work with Russian pipeline supplies and would rush en masse to invest in American gas terminals. But this will not happen. Of course, a drop in prices is extremely unprofitable for us. However, in the long run, in the current scenario, it is Russia that has all chances to remain the main supplier of energy carriers for the most important European market. Moreover, in the confrontation that is now unfolding, if we look at it in the perspective of the "bad and good cops" so beloved by the Americans, it was the United States that turned out to be in the role of not just bad, but, to put it mildly, alternatively gifted cop. Absolutely unpredictable, spitting on the law, someone's rights there and used to pursuing his own exclusively by brute force. What does it look like in the eyes of Brussels, Berlin, Paris? The Russians made a compromise, but the United States has already reached the limit in its attempts to stop the hated Nord Stream-2. Rather, they went beyond all permissible limits ... No wonder the very European Commission, which warmly welcomed the conclusion of a transit agreement between Moscow and Kiev, very sharply opposed Washington's latest sanctions, calling them "unacceptable in principle." Germany quite rightly called this lawlessness a direct interference in its internal affairs. True, they promise to abstain from retaliatory measures there, but they will undoubtedly draw conclusions - and in no way in Washington's favor.
Why is Moscow calm?
Relations between the United States and Europe are now strained as never before in recent decades. The "allies" on both sides of the Atlantic are on the verge of a trade war, especially approaching it after an odious decision by the World Trade Organization, which recognized Washington's right to impose duties on Europeans of $ 7.5 billion for allegedly "illegal subsidies" of Airbus. Most likely, France and Germany will get the most. Knowing Donald Trump's love for "cowboy" methods of resolving economic disputes, the worst outcome can be assumed with a very high degree of probability. In Europe, they understand this perfectly and act accordingly. I will give just one specific example: the four "whales" of the financial business there, the German Deutsche Bank, the British Barclays, as well as the Swiss Credit Suisse and UBS, have withdrawn about $ 280 billion from the US subsidiaries over the past three years. Not the best indicator for Americans. At the same time, European financiers, completely not publicizing their own actions, are extremely active in supporting Russia in its desire to refuse to the maximum to the dollar. Here, in fact, is the clearest example: French Minister of Economy Bruno Le Mer, who recently visited France on an official visit, stated in absolutely open text that he intends to "find an acceptable innovative solution that meets international legal standards" that allows ignoring US sanctions that prevent French banks from investing to our country. Moreover, only six months have been set aside for this matter - the pace for such questions is directly rushing.
The situation is similar with the Germans. The local Bild, I remember, almost fought hysterically when the German business elite amicably and smoothly threw the crowd to a meeting with Vladimir Putin in December. At the same time, its representatives "did not even try to criticize him for the murder committed in Berlin", but instead began to heatedly discuss all sorts of contacts and contracts. "How can they ?!" - the scandalous edition inquired angrily. And so ... Siemens President Joe Keather snugly sat right on the left hand of Vladimir Vladimirovich and eagerly listened to his every word - for there are billions at stake. This is really important, and not gas transit through the "non-transitory" one, which will be safely bent, after a maximum of five years, and, most likely, much earlier. This is under the condition that our European partners (the Germans, in the first place) will support the interests of Russia, albeit bearing in mind their own mercantile interests. There is no other way in the business world. And we have much more important and significant issues ahead. For example, the fate of the Northern Sea Route, where the Americans and I can not at all diverge on the opposite courses. A lot will depend on who Europe supports in this conflict. And military-strategic moments should not be discounted. They are, perhaps, primarily in the light of the fact that right now Washington is striving to turn the Old World either into an outpost to intensify its operations against Russia, or even into a springboard for an attack on it. And it would be very nice for us to have more and more people like the deputies of the German Bundestag openly declaring that Germany does not need either American LNG or American nuclear weapons. The game goes on for a long time, without compromises and tactical retreats it can not do without it. At least for now.
And, by the way, here's another thing ... A complete stop of the transit of Russian gas would inevitably turn the Ukrainian gas transportation system into a pile of scrap metal, worthless in general. And why does it not occur to anyone that perhaps Russia is now simply saving property, considered as its own, from destruction? In a more or less foreseeable future. Why not?