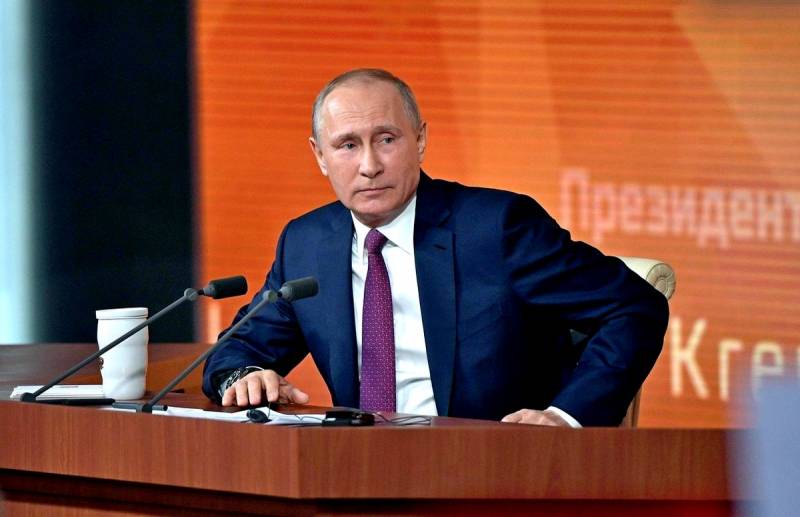 Foreign media parsed the statements of the Russian leader "piece by piece", trying to stretch them them journalistic sensation.
This year, many journalists gathered at a press conference of the President of Russia waved portraits of Vladimir Putin, trying to attract his attention. Among them were foreign correspondents, since a large pool of media representatives traditionally comes to the speeches of the head of the Russian Federation. They are trying to get a loud statement from him. Consider the most interesting of them for the foreign press.
The blessing of the "super president"
Journalists do not behave with dignity, at odds with each other in trying to ask a question,
- writes the German edition
Der Spiegel
that came out with the heading "Super President".
As it notes, at the same time, journalists who received a "blessing" to address the president remain "with nothing". For example, there was no comment on the theoretical possibility of staying in power, having headed a new state, allied with Belarus.
At the same time, according to Der Spiegel, Putin made it clear that he intends to introduce restrictions on the presidential condition, limiting it to two terms without adjustments for the possibility of re-election after a pause in the board.
After all, is this really the case, only one person knows: he himself,
- states Der Spiegel.
Alliance with China outside the Blocks
American edition
Wall Street Journal
focuses on the START-3 treaty and the Ukrainian crisis. In both cases, as indicated, the President of the Russian Federation concludes that Washington and Kiev are respectively guilty of escalating tensions. However, in fact, this topic serves only as a springboard to justify new accusations against Donald Trump, accusing him of a potential conspiracy with Moscow.
Chinese edition
Gmw.cn
draws attention to words about an alliance with the PRC. Relations between the countries, according to the head of the Russian Federation, have reached an "unprecedented level", but they do not mean the conclusion of a military pact with Beijing.
As m.gmw.cn explains, the current world balance left over from the Cold War is a thing of the past. Hence the gradual death of NATO:
We can say that the union is no longer the inevitable choice of a way to achieve a high level of mutual trust between states.
According to him, the world is in a state of permanent change, which, in particular, causes a certain conflict in relations between the Russian Federation and China. However, they find ways to settle them. Therefore, Putin's approach "may reflect
political
the wisdom of China and Russia, concluded a "non-aligned alliance."
The high level of Russian-Chinese relations exceeded the ceiling of the Confederation and served as a model for creating a new type of international relations,
- concludes the Chinese edition.