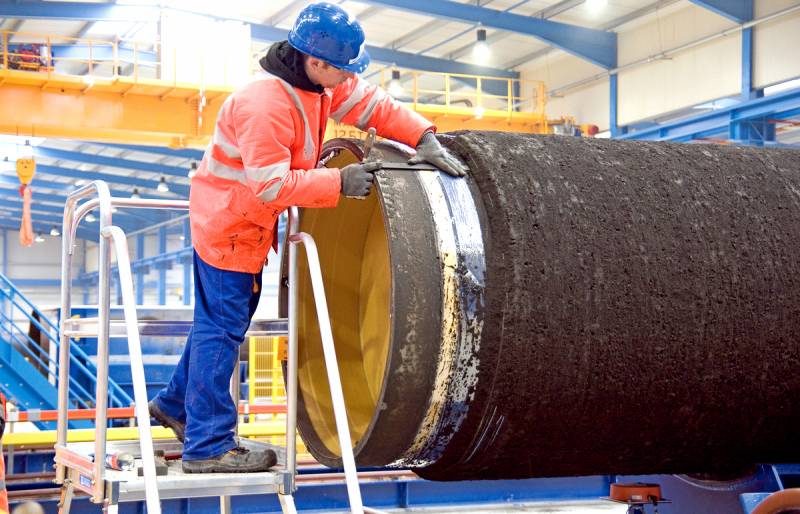 Towards the end of the year, the US Congress passed new sanctions on Nord Stream 2. At the same time, the Americans themselves recognize their senselessness: the gas pipeline is almost complete and will begin to work in a few months next year. So what then is the United States seeking?
Despite their apparent absurdity, these preparations look very sinister for Russia. Washington directly makes it clear to the Kremlin and its European partners that it will "crush" any projects of Gazprom and other domestic energy companies. Given their importance for replenishing the federal budget,
news
bad.
Pipeline gas
The Americans, along with their allies, managed to ensure that the constructed Nord Stream 2 should be half empty. Germany, in turn, is looking for loopholes, it might find, but, instead of stable operation, the gas pipeline will be constantly in limbo, and its functioning will be determined in the "manual mode".
Theoretically, it is possible to compensate for the lost capacities of Nord Stream-2 and the Ukrainian GTS at the expense of Nord Stream-3. But it will be long, expensive, and half of its capacity according to the norms of the Third Energy Package will again be idle. The current US sanctions, according to some experts, are directed against new Russian pipelines to Europe. Perhaps it is not so bad that such dubious adventures are nipped in the bud.
LNG
The purpose of Washington's pressure on Gazprom is to promote American liquefied natural gas to the European market. The role of LNG in the EU energy balance has increased dramatically over the past ten years; special receiving terminals have been built along the coast. Obviously, the importance of LNG for Europe and the whole world will only increase further.
But for Russia, this shines with yet another problem. It is not only about serious competition to its pipeline gas. LNG projects exist in our country. However, US sanctions clearly have as their goal a blow to this segment of the domestic energy sector. Expert Dmitry Abzalov explains:
There are big risks in a sector such as liquefied natural gas, as LNG plants already operating in Russia use foreign
Technology
liquefaction. Equipment used in Russia is imported from America, France, Britain - and all transactions are carried out in the dollar zone.
The ban on the import of such technologies into Russia will be a serious blow to LNG projects, which can slow down their development for a long time. Therefore, the "LNG-holiday" can go around our street.
Finally, we must understand the deep meaning of this New Year's "greetings" from Washington. The United States makes it clear to Europe that it intends to tighten the noose around the neck of Russian energy projects in general. In other words, this is the beginning of the "Iranian scenario" for our country, where sanctions for the purchase of domestic energy resources may be the end.