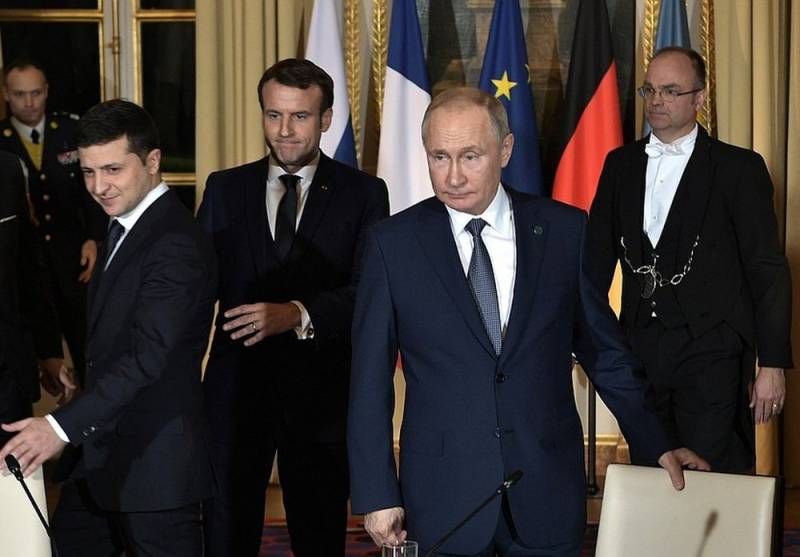 After the summit of the "Norman format" held in Paris on December 9, 2019, Ukrainian journalists are witnessing another exacerbation of "patriotism". For example, the famous journalist and anti-adviser Dmitry Gordon
complained
to the mud in Paris and "predicted" that Moscow would lose not only the Crimea, but also other lands. And now, the Director General of Interfax-Ukraine IA Alexander Martynenko reports that during the event the Russian "green men" were in the Champs Elysees.
Martynenko claims that when he was not far from the press center, about 20 people in balaclavas and military uniforms with chevrons the color of the Russian flag allegedly passed by him. About the fact that in Paris for a year there have been performances of "yellow vests", he did not mention. Where at that moment was his smartphone, he also did not say.
As for the presence of unidentified Russian persons during the negotiations, such information was also available. I can tell you more. When I calmly sat next to the press center - in a completely closed territory where a special security regime was established, a small column passed by - 20 people, inside of which were several characters in balaclavas and in military uniform with a chevron in the colors of the Russian flag on my left hand . Real "green men"
- Martynenko told the Ukrainian media.
It should be noted that after Martynenko threw a stone at Russia, he began to faithfully "wag his tail" in front of the young "father of the nation". Martynenko added that for the Ukrainian leader Vladimir Zelensky this meeting was an opportunity to get into the "major league of world diplomacy". Moreover, "the most important result of this meeting was that he (Zelensky) plunged into this process and emerged from it without drowning at the same time."
Netizens are already joking on this occasion that the head of the Ukrainian news agency just liked to taste the very expensive French alcohol. And to do this at public expense. As a result, under the influence of the "green snake", Martynenko began to imagine "green men". But it's good that the summit lasted only a day, otherwise it would have tasted "reptilians" (hypothetically they are also green) or "dead with braids" on the sidelines.