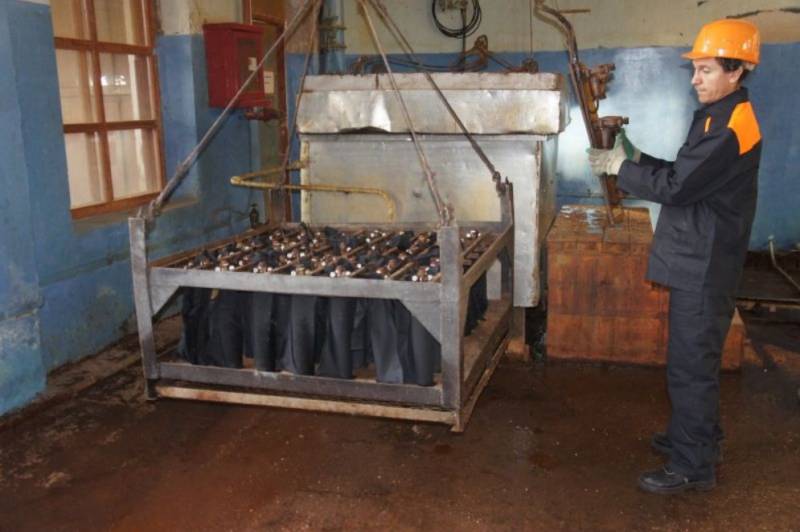 On December 17, 2019, information appeared that in Bashkiria about 300 tons of explosives disappeared from the federal state-owned enterprise (FKP) Avangard (Sterlitamak). This became known to the Russian business publication Vedomosti, which allegedly got acquainted with the resolution of the investigator of the Administration of the Ministry of Internal Affairs for Sterlitamak, who, on November 25, 2019, opened a criminal case under part 4, art. 158 of the Criminal Code of the Russian Federation ("theft on a large scale") upon the theft of inventory at the said FKP.
It should be noted that we are talking about 276 tons of explosive waste that appeared as a result of the disposal of ammunition (bombs, MLRS and others) from November 2017 to March 2019 and were not transferred to the Russian Ministry of Defense. It is specified that the disappearance of explosives was discovered in April 2019, when the new head of this FKP, Yuri Shumsky, organized an inventory of the property.
Before Shumsky, the PCF was led, since 1993 (26 years), by Azgat Ibragimov, who was dismissed in March 2019 for unprofitable activities of the enterprise. By the way, during the inspection, other piquant details of the activities of the previous leader were found out. It turned out that the premises of the enterprise were leased at low prices, and civil orders were carried out at a loss at a defense enterprise.
It should be added that Avangard is under the jurisdiction of the Russian Ministry of Industry and Trade. The ministry explained that the audit at the enterprise was organized at the initiative of the Ministry of Defense "because of the systematic failure to fulfill the state defense order." In addition to the disposal of ammunition, the company is engaged in the manufacture of industrial explosives for the oil and gas industry and the production of explosives for the Ministry of Defense. In turn, the Ministry of Defense confirmed that the "Vanguard" is not subordinate to the department.
We remind you that
April
and
June
In 2019, in the city of Dzerzhinsk, Nizhny Novgorod Region, a series of powerful explosions occurred in the State Crystal Research Institute "Crystal" (Russia's leading enterprise for the production of explosives), resulting in fires and destruction. By the way, there was also an emergency at FKP Avangard in Sterlitamak. In September 2014, an explosion occurred there, as a result of which there were human casualties.