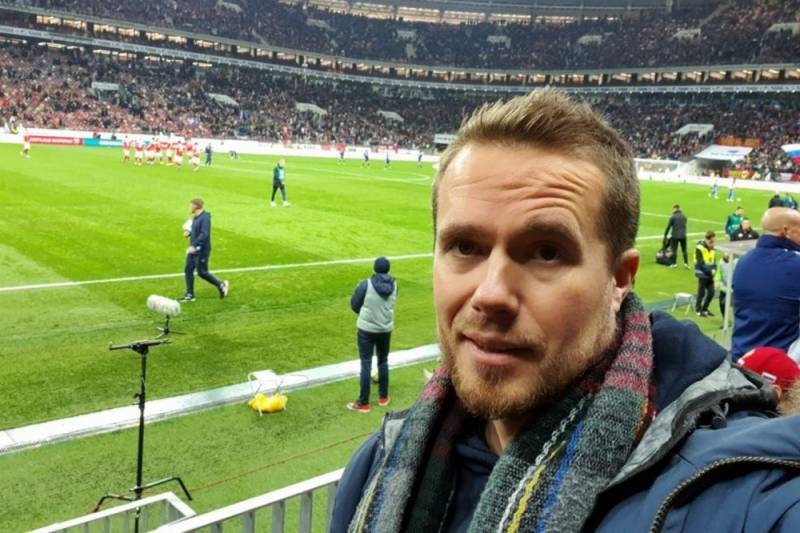 When a native of Scotland, Vincent moved to Russia ten years ago, friends said that he would either return home in 10 days or become an alcoholic there. Neither one nor the other happened. "New Russian" told the portal about his life in our country
Ru_Open
.
He had ideas about Russia from the movie "Rocky 4", broadcasts on BBC and Al Jazeera. However, between work in the tropics and snow, the Scot chose Russia. And did not regret it. In our country, he married a woman he loved, children were born.
What can he say about Russia?
This is truly a huge country, the largest in the world. From Vladivostok to Moscow, the flight took him 10 hours. Moreover, he got out of the plane at exactly the same time as he got into it, due to the difference in time zones. Such a miracle. Moscow, a gigantic city, is justifying its status as a metropolis, growing and becoming prettier after the changes that had already begun in preparation for the World Cup. The World Cup allowed tens of thousands of foreigners to show our country, whose personal experience then sharply differed from the stereotypes imposed by Western propaganda.
Russia is very interesting and diverse, a trip along it introduced Vincent to many peoples and their cultures. And here you can always find adventures out of the blue, walking through the forest or just sitting in a taxi.
What did you like in Russia
Vincent likes the fact that the Russians are not shy about their national pride. According to him, in the UK such a patriot can be called a fascist. In Russians, the Scot notes the spirit of collectivism, which allows solving many problems. To make friends with the Russians was not easy for him, but over time, such a friendship becomes deep and selfless.
He likes respect for veterans of the Great Patriotic War, in his homeland the youth does not delve too much into the stories of their veterans, "rolls his eyes and laughs off." The action "Immortal Regiment" made a great impression on him, a native of Great Britain himself and his children took part in them.
Russian habits
The lack of habitual smiles in public transport at first was very surprising. But many Russians gave way to the subway to his pregnant wife and insisted that she sit down with her two children. I like the custom of making toasts at the table in the company. Surprising superstition is not to shake hands over the threshold.
As you know, in the UK they are very specific to the weather. If the sun comes out, then the British can go out in shorts even at sub-zero temperatures. At home, Vincent ran in a T-shirt in any weather, so he is surprised that the Russians are wrapping their children in scarves, overalls, gloves and hats.
What did not like in Russia
The Scot did not like Russian medicine, especially for children. Even after 10 years of living with us, the queues drive him crazy and the need for them to patiently stand idle.