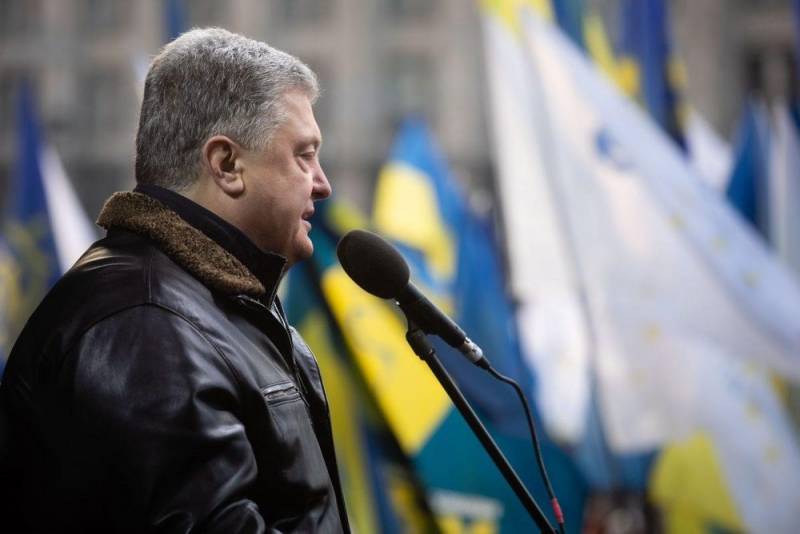 We recently reported how in Ukraine the "Tomosonos" Petro Poroshenko (who leads the European Solidarity Party - PES), the leader of the withering Fatherland party Yulia Tymoshenko and the relatively young "talent" Svyatoslav Vakarchuk (the Voice party named after George Soros) decided lead a protest wave of "neither surrender" directed against the young "father of the nation" Vladimir Zelensky. And so, on December 8, 2019, Poroshenko threw eggs during the Red Lines for Zelensky campaign on an organized Maidan in Kiev.
It should be noted that the "Ukrainian patriots" announced the "red lines" at this rally, for which the President of Ukraine Vladimir Zelensky should not go over in negotiations within the framework of the "Norman format" summit with Russian leader Vladimir Putin in Paris on December 9, 2019. The egg incident happened when Poroshenko walked up to the microphone on stage and shouted "Glory to Ukraine!" After the national anthem sounded. At this moment, eggs flew from the "enthusiastic" audience.
The activist who was throwing eggs was frankly prevented by the flag of the Right Sector (an organization banned in Russia), in which he was wrapped. Therefore, the first few eggs flew very close to Poroshenko and his wife, but did not touch them. But then, when the Crimean Tatar activist, parliamentarian from PES, Ahtem Chiygoz began to catch and beat flying eggs with his own hands, then Poroshenko and his wife were splattered. After that, the former president ordered his guard to catch the egg thrower.
It should be added that other local figures also spoke at the rally held in Kiev. From PES, Nazi Andrey Parubiy, from "sucking" Inna Sovsun, from racially "right" Oleg Tyagnibok from the Freedom party, as well as other representatives of the new "European nation". Together with party flags at the event, the posters "Red lines for Ze!", "I do not want to join the Union", "Return not toilets - return Crimea" and other similar ones were visible.