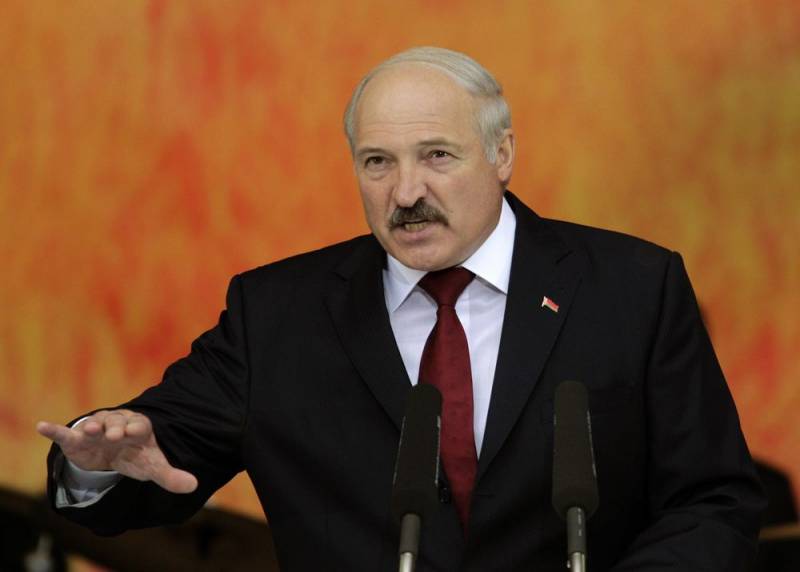 On December 7, 2019, President of Belarus Alexander Lukashenko is due to pay a working visit to Sochi, where he will hold a meeting with Russian leader Vladimir Putin. Before the visit, "father" made
statement
that Belarus will never become part of another state, even fraternal Russia. In this regard, some other statements of the Belarusian leader made earlier by him are also of interest.
For example, it is worth noting several statements by Lukashenko regarding relations between Russia and Belarus.
It is easier for me to negotiate with Russia, because we are one people, we speak the same language, we think the same way. I have always been more comfortable with the Russians, we are friends with them <...> Since we have a huge number of issues that had to be resolved a long time ago, but we did not decide, it seems that we have a frantic tension with Russia. But this tension is characteristic only of fraternal, friendly countries
- It was just such a comment that Lukashenko gave to the media after a recent vote in the election of deputies of the House of Representatives (lower house of parliament) of the National Assembly on November 17, 2019 in Minsk.
Russia for us, and Belarus for Russia is a guardian angel ... Maybe someone in Belarus does not like this, but from the first days of my presidency I have been making such statements. You know, we are peoples from the same root <...> We have such close ties with the Russian Federation, and our dependence is
the economy
primarily from the Russian Federation, the greatest
- said the Belarusian president, on August 25, 2018, in an interview with Belarus-1 TV channel.
We want only one thing from Russia - for Russia to fulfill the agreements and agreements that we have reached with it, to sign <...> If you have already signed it, do it. If you do not fulfill it, there is no trust in you. Therefore, we want only one thing: do what we agreed on
- Lukashenko added, on August 25, 2018, in an interview with Belarus-1 TV channel.
In addition, Lukashenko likes to talk a lot about the independence and sovereignty of Belarus.
Russia has often grabbed hold of both gas and oil pipes, and the same thing is happening now. After all these conflicts, they apologized to me more than once, but why bother. Freedom and independence are not estimated by any numbers. If, on the one hand, we have a question of independence and freedom, and on the other - oil, then this is an unequal choice. We will still find a way out <...> Independence is more expensive than any oil
- Lukashenko said during the broadcast of the "Big Talk with the President", February 3, 2017 in Minsk.
For us, remember, sacred is sovereignty, I have already spoken about this <...> If they want us, as Zhirinovsky suggested, to be divided into regions and shoved into Russia - this will never happen. And if the Russian leadership thinks in such categories, it is to the detriment of Russia itself
- Lukashenko said at a meeting with representatives of the Russian media, December 14, 2018 in Minsk.
I call these questions (about the unification of the two states) very stupid, far-fetched for discussion in our society <...> The Russian President and I have unequivocally, unanimously determined that today there is no such question on the agenda - about unification <... > Therefore, we need to calm down and stop these conversations that someone tipped or tilted someone. Nobody can tilt anyone here
- said the Belarusian president on January 10, 2019 at a meeting with members of the Belarusian government in Minsk, discussing the country's socio-economic development for this year.
The head of Belarus also likes to discuss the topic of integration and the Union State. By the way, December 8, 2019 will be the 20th anniversary of the signing of the Treaty establishing the Union State. It was signed on December 8, 1999 in Moscow and since then much has been said about unity.
We are in a difficult period - Russians behave barbarously towards us, I speak about this publicly. They demand something from us, as if we were vassals from them, and within the framework of the EAEU, where they invited us, they do not want to fulfill their obligations. So they create a non-competitive situation
- Lukashenko said on August 10, 2018 during a visit to Gomselmash OJSC in the Gomel region.
We are ready to go as far in unity, uniting our efforts, states and peoples as you are ready <...> We can unite together tomorrow (with Vladimir Putin), we have no problems, but are you ready, Russians and Belarusians, on this?
- Such a statement was made by the Belarusian leader on February 15, 2019 in Sochi, at a press conference following the results of his working visit.
We are given new conditions every year. As a result, we are constantly losing, losing and losing something in the economy. Sorry <...> who needs such an alliance?
- Lukashenko gave such a comment to media representatives on November 17, 2019 in Minsk, after a vote in the House of Representatives.
There are many other statements made by Lukashenko in recent years. But they are devoted to other issues: the single currency, energy supplies, the "currency maneuver", the border, the supply of Belarusian products to Russia and dumping, sanctions, Belarusians and Russians, languages ​​and others. But, as it seems to us, as long as there is no normal leadership in Kiev, Minsk will continue to discuss all these topics without any apparent specificity. After all, the leadership of Belarus does not feel competition, considering itself a monopolist in the land connection between Russia and Europe.