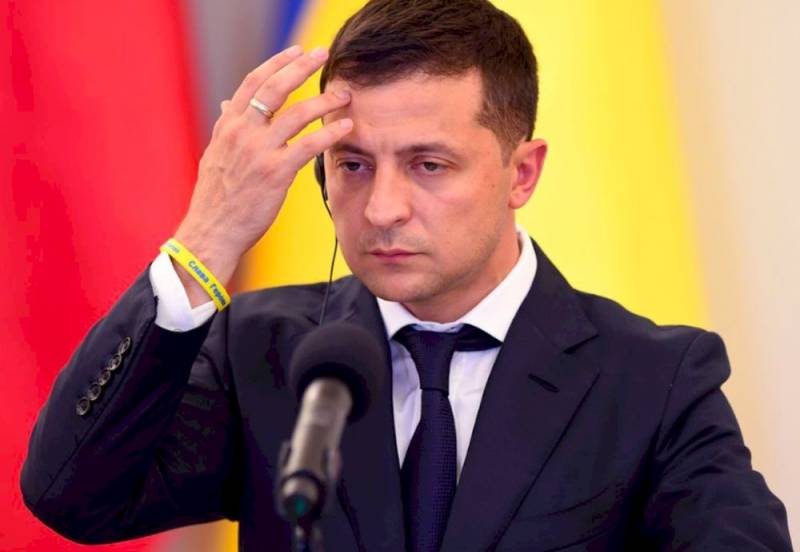 Having grown rich in applause from the Russians and becoming president of Ukraine thanks to the averaged pro-Russian part of the Ukrainian electorate, Vladimir Zelensky is more and more reminiscent of his Russophobe predecessor Petro Poroshenko every day. On December 2, 2019, the new "father of the nation" in an interview with the German publication Der Spiegel (Shpigel - Zerkalo) said that residents of Donbass who consider themselves Russian or speak "for Russia" will be able to freely in the process of "de-occupation" leave the territory of Ukraine.
It is believed that most people want to live in Russia. It is not true. I believe and know that there are people who are for Ukraine. There are lost ones. And finally, there are those who are for Russia. Those who are for Russia can leave: Russia is now distributing its illegal passports there
- said Zelensky, a week before the summit of the "Norman format" in Paris.
Zelensky emphasized that local residents do not have the right, living in Ukraine, to say that "I am Russian and this is my land." He, as president, "would not fight for people who consider themselves only Russian."
And if someone has a Ukrainian passport, and then additionally takes a Russian one, receiving social support from us and from there, then this person has gone astray. I have no moral right to say "fu"
- added the head of the Ukrainian state, without specifying what he means by "Fu" - an appeal to animals or an attitude towards surviving people.
It should be noted that in the spring of 2019, Russian leader Vladimir Putin simplified the admission of Russian citizens of the DPR and LPR to Russian citizenship for humanitarian reasons. In response, Zelensky simplified the provision of Ukrainian citizenship to Russians, after which crowds of Nazis from the Azov regiment with Russian passports became citizens of Ukraine.
It should be added that Russia has already reacted to another unfriendly statement from the new Ukrainian authorities. Russian Foreign Ministry spokeswoman Maria Zakharova commented on the mentioned statement of Zelensky on her Facebook.
These are not people lost, but the state lost, and then people lost! And the tanks sent from Kiev to "search" for people will not find them. Guarantee residents their rights, and they will find themselves
- wrote Zakharova.
Zakharova recalled that Kiev did not specifically hold elections in 2019 in the Donbass. So the inhabitants of the region "not of their own free will" did not elect the president of Ukraine, therefore they were not obliged to "listen to him where they should go." After that, Zakharova called on the Ukrainian authorities to look for the culprits of all the problems in their own ranks.
Remember how in 2014, after an unconstitutional coup, foreigners were appointed to key posts in the government? Ministers from the United States, Georgia and Lithuania received Ukrainian citizenship several hours before their appointment ... It was a global strategy. Mayors, governors,
policy
of all stripes had residence permits and citizenship of other countries, making decisions in their favor and under their dictation
- reminded Zakharova.
In addition, she recalled that the inhabitants of Donbass were cut off from the rest of Ukraine by the Ukrainian authorities themselves, which deprived people of their rights, social guarantees and livelihoods. Therefore, one should not be surprised that the residents of Donbass lined up for Russian passports.
But how, by this logic, does Europe exist? People have several passports of different countries, live wherever they want, and do not even answer the question "whose Falklands"
- summed up Zakharova.
We remind you that the Ukrainian authorities have long been pursuing a policy of blocking the Donbass, clearly demonstrating their "love." Therefore, it is not surprising that when the Russian authorities simplified the procedure for obtaining citizenship for residents of the DPR and LPR, the instinct of self-preservation worked for people.