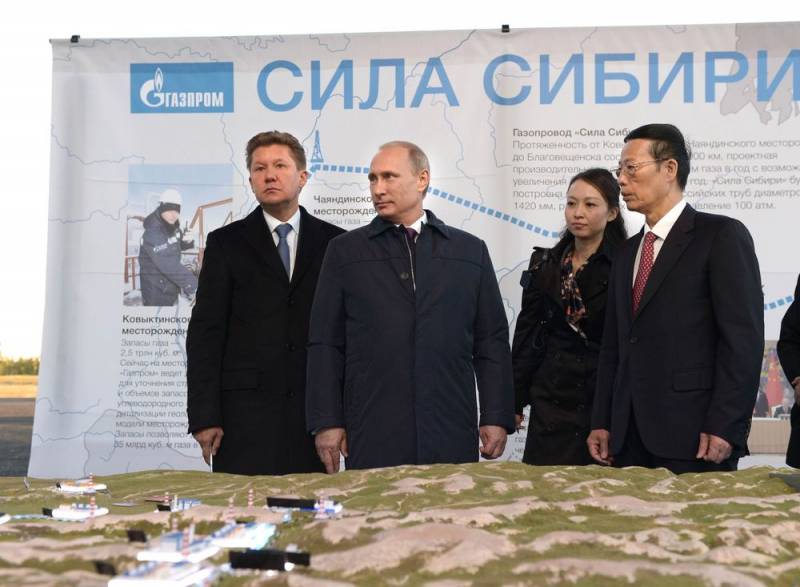 Recently we
Reported
as Russian President Vladimir Putin and Chinese leader Xi Jinping launched the operation of the Power of Siberia gas pipeline. And so, the American edition of The Wall Street Journal appreciated the importance of this gas transportation project for further Russian-Chinese relations and the "global order led by the United States."
The largest project in Russia (energy - ed.) Since the collapse of the USSR - the Power of Siberia gas pipeline - is a real link that strengthens cooperation between two world powers, each of which challenges the United States
- wrote the publication.
The publication also cited the views of a number of experts. For example, according to the findings of former CIA analyst Erica Down, who now works at Columbia University, Beijing and Moscow, having joined forces, sent a signal to the world community that there is an alternative to the global order led by Washington.
According to the publication, the supply of Russian natural gas to China will become a serious obstacle to the supply of liquefied natural gas (LNG) from the United States. It doesn't matter if Washington and Beijing agree on trade, energy and other issues.
Anne Mikalski, an energy expert at Rice University, agrees with these findings. She added that after the launch of the Power of Siberia, the United States "will lose certain opportunities" for LNG supplies to China.
It should be recalled that a month before the launch of the Power of Siberia, China's China Petrochemical Corp. (known as the Sinopec Group) and the American Alaska Gasline Development Corp. signed an agreement of intent related to the development of an LNG plant in Alaska. The project is estimated at $ 43 billion. The capacity of the LNG plant will be 20 million tons of LNG per year (about 27,6 billion cubic meters per year). They want to build a gas pipeline (about 800 miles) from the northern fields in Alaska to the LNG plant in the south of the state. Alaska authorities, China Investment Corp. will also participate in the project. and Bank of China Ltd. The document itself was signed during a visit by US President Donald Trump to China. What will now be with these intentions is unknown.