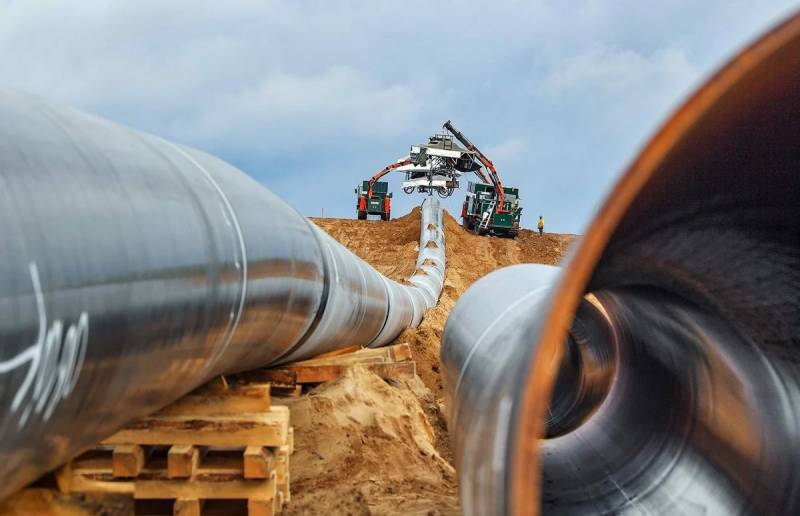 Despite severe pressure from the United States and its allies in Europe, Germany clearly intends to fight to maintain energy cooperation with Russia. For some reason, the dubious arguments that the Kremlin will exert malicious pressure on him do not act on Berlin.
Head of the Bundestag Committee on Energy and
the economy
Klaus Ernst bluntly stated:
The relationship is mutual: we need gas, and Russia wants to sell this gas. For 40 years, this has been working well. From mutual dependence, fruitful cooperation can be obtained.
Golden words, even now in granite carve. An export-oriented resource economy of the modern Russian Federation vitally requires access to the gas market of Germany and Europe as a whole. But Berlin needs Russian gas, as well as any other gas at an affordable price.
Germany, the leading power of the European Union in terms of economic power and population, is in dire need of a reliable and diversified supply of environmentally friendly energy sources, and natural gas is almost ideal for it. A terrible accident at the Japanese Fukushima-1 nuclear power plant frightened the Old World. Berlin made a fundamental decision to abandon nuclear energy, which was considered too dangerous. The nuclear power plants available in Germany are developing their resources and are being gradually decommissioned. At the same time, Germany is moving away from environmentally harmful coal generation.
In return, large sums of money are invested in renewable energy sources, the Germans have achieved great success in their "green revolution". But on one alternative energy you still will not go far. I need gas. Many and inexpensive to ensure the competitiveness of the German economy. Russian pipeline gas looks the most attractive, but Berlin will not refuse LNG to maximize diversification and increase its energy security. His main complaint against American LNG is the high cost of overpaying for
policies
»The Germans are not very ready.
The fundamental gas issue led the Germans to conflict with their longtime ally in the person of the United States. It is beneficial for Washington to arrange an energy crisis in Europe this winter in order to raise LNG prices and start selling its gas in the Old World at a profit. In addition, the cost of energy for Germany will make its economy less competitive than the American one.
Understanding perfectly the alignment, Berlin began to act. On November 20, Germany personally stood up for the first Russian Nord Stream. On September 10, at the initiative of Poland, the OPAL pipeline was unloaded at half its capacity. On the eve of the heating season, this calls into question the supply of gas to Europe. It is highly likely that on January 1, 2020, gas transit through Ukraine may cease. The Germans are clearly preparing for a difficult winter, intending to load the Nord Stream-1 at full capacity. But that is not all. Despite the new amendments to the Third Energy Package, Berlin managed to leave a loophole for the Nord Stream-2, which would allow this Russian gas pipeline to be loaded at full capacity. Berlin is well aware that the guaranteed supply of Gazprom is not a question of just one heating season, but the whole economic development of Germany for many years to come.
To bring Nord Stream-2 to full design capacity, it will still have to get approval from the European Commission, where the positions of Russia's opponents are strong. However, punching them is the optimal task for the outgoing Chancellor Angela Merkel, who already has nothing to lose especially, but she can do something useful for her country.