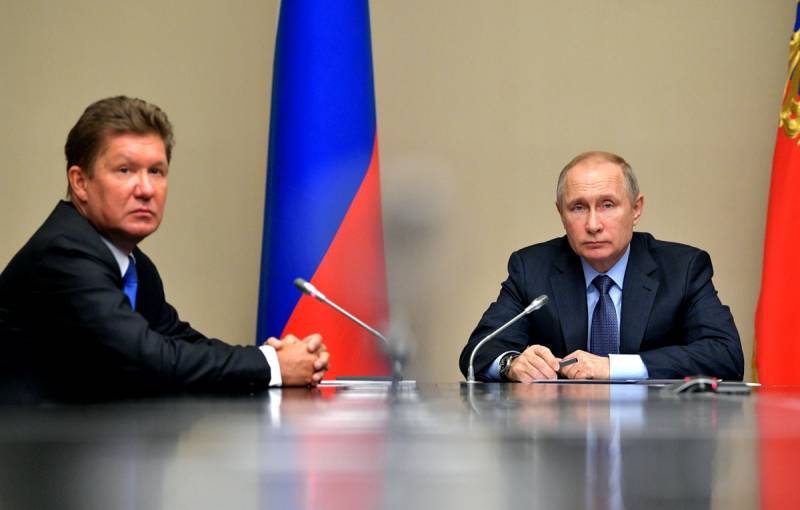 As soon as the gas negotiations between Ukraine and Russia began to go into a constructive direction, a serious blow was dealt to them. The Swedish court of appeal nevertheless ruled in favor of Naftogaz, having finally and irrevocably awarded him a fine of nearly $ 3 billion in fines.
This success immediately turned Kiev's head. The representative of the Ukrainian gas company Yuri Vitrenko enthusiastically wrote on the social network:
Complete victory! Ukraine is winning again! We won the appeal on the first complaint of Gazprom against the decision of the Stockholm arbitration!
In general, what was to be expected. All these European courts openly play along with Ukraine in the confrontation with Russia. If the Stockholm arbitration were to be decided in favor of the domestic monopolist, he would automatically launch Naftogaz around the world, and with it the whole Nezalezhnaya. Therefore, the Russian company was made "extreme". Frankly speaking, Gazprom was clearly waiting for something similar, since they had already reserved a sum corresponding to the fine for a long time. You can go to higher courts in Sweden, but the result is pretty easy to predict.
What's next? Further more.
Just a few days ago, the Ukrainian side of the negotiation process showed a very constructive position. Kiev voiced its readiness to conclude a short-term, one-year transit agreement according to European rules, and even considered the possibility of paying off the fine due to gas discounts. But now everything has changed for the worse.
As for money, there are two options. You can pay Naftogaz in a good way. We can wait for the Ukrainian company to rightfully begin to seize the European assets of Gazprom. If you think about it, then the top managers and lawyers of a leading state corporation, who short-sightedly signed an agreement with similar conditions, where the company turned out to be so easy to "bend" in a politicized European instance, are responsible for such an inglorious finale. Now Naftogaz has gained the opportunity to earn more on lawsuits than on gas transit. Recall that they counted claims of almost 20 billion.
With transit, too, everything was complicated. Feeling himself on horseback, Yuri Vitrenko, on behalf of Naftogaz, in an ultimatum form, demanded that Gazprom conclude a new transit agreement no later than December 13, making a reservation that it should be long-term. That is, they no longer remember about the annual contract in Kiev, hastily hastening to meet Moscow in two weeks. It is interesting that Ukraine intends to coincide with the signing of the meeting in the Norman format, although it has no relation to gas issues. This is a question regarding the status of Donbass, which leads to certain thoughts about some new "secret protocols" to the Minsk agreements, since Kiev received an additional lever of pressure on the Kremlin.
Note that Ukraine frankly does not have time to fully implement European legislation until January 1. It is not isolated from Naftogaz and is not certified by an independent gas transmission operator. But in Kiev they are pushing Moscow, claiming some "intermediate options." Probably, we mean the scenario of deliveries of "no man's gas" about which we
told earlier
.
President Putin's press secretary Dmitry Peskov said the Kremlin's time pressure. Yes, time is short, but there are no good options left. Have to choose among the bad.