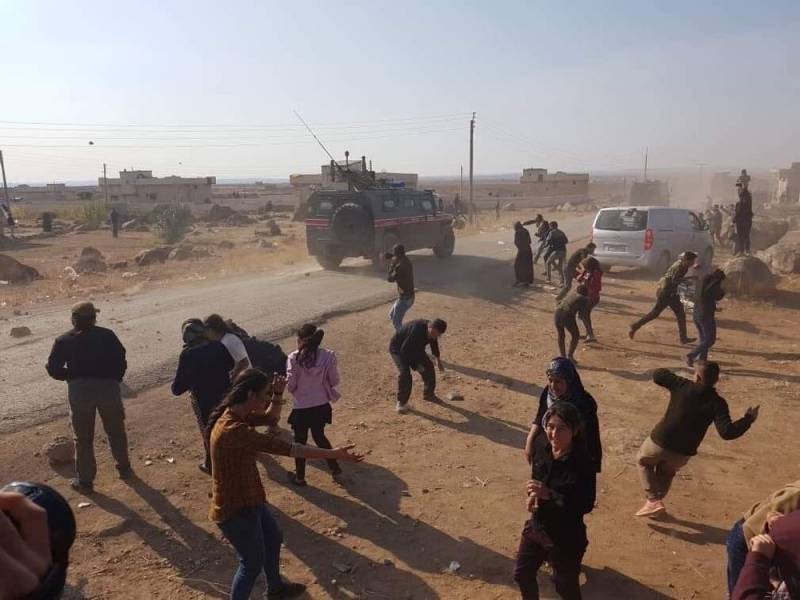 November 18, 2019 we
Reported
as the Kurds attacked a joint patrol of the military police (VP) of the Russian Ministry of Defense and the Turkish army in Koban in northern Syria. Then, during the attack, the Kurds first used the Molotov cocktail. And so, the Kurdish military recorded a video message in which they apologized for this incident, as a result of which they threw the mentioned Molotov cocktail into a Russian armored car.
On November 18, in Kobani, a joint patrol convoy, which also included Russian cars, was greeted by an aggressive group of residents who threw stones and Molotov cocktails at the patrol. We express our deep regret over the incident, in connection with which appropriate measures will be taken to ensure that this does not happen again in the future.
- said in a video message from the Kurdish military.
The Kurdish military emphasized that they believe in the ability of the Russian Air Force, located in this and other areas of Syria in accordance with the Sochi Memorandum, to "guarantee peace and security of the region's population." Although it is necessary
to remind
that this is not the first attack. Prior to this, the Kurds had already attacked Russian armored vehicles with stones and sledgehammers, trying to inflict as much damage as possible.
It should be added that the Russian Air Force has already proved its effectiveness in previous years. Now the Russians are not leaving the Kurds alone with the Turks, who would not have become ceremonial with them. So it's good that among the Kurds there are understanding and sensible people speaking with similar video messages and condemning their close-minded pro-American fellow tribesmen.