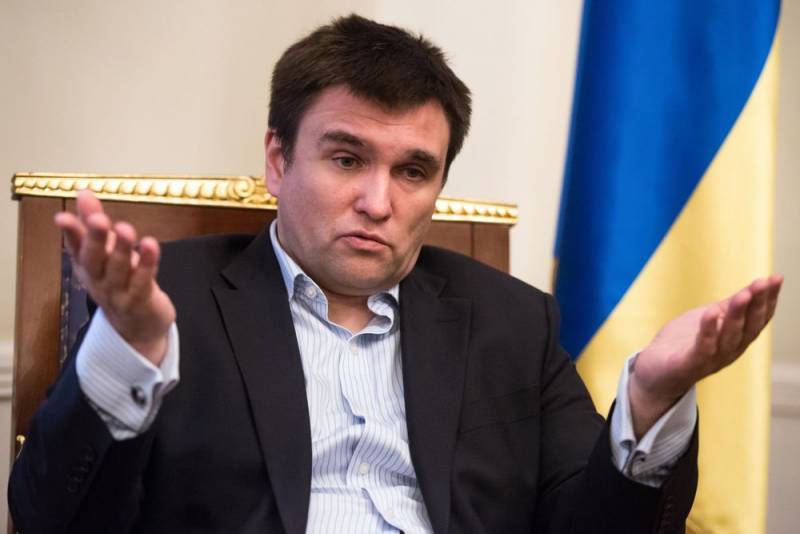 Former Ukrainian Foreign Minister Pavel Klimkin, who has been openly dreaming of becoming the mayor of the "capital of the nation" in Kiev for some time, told the Ukrainian media that the separation of forces in the Donbass was another victory for Russian President Vladimir Putin. He explained that "this success still needs to be realized," but "symbolically" it has already been achieved.
Klimkin is convinced that Putin's success in the Donbass lies precisely in the fact that the process of the separation of forces is ongoing. That is, the "philanthropic" Klimkin is concerned that in the Donbass they may now begin to shoot less, therefore, there will be fewer dead and mutilated on both sides.
Unfortunately, he has a lot of success.
- sadly stated Russophobe born in Kursk (RSFSR).
In turn, the first deputy chairman of the committee of the Federation Council of Russia on international affairs Vladimir Dzhabarov (senator from the Jewish Autonomous Region) expressed the opinion that there is a catch in Klimkin's words.
I do not flatter myself in relation to Mr. Klimkin. As the Minister of Foreign Affairs of Ukraine, he conducted frankly Russophobic, anti-Russian
policies
- said Jabarov.
The senator added that the breeding of forces in the Donbass is "the success of all countries of the Norman format" (Russia, Ukraine, France and Germany), as well as the DPR and LPR. He emphasized that the Russian leadership is in favor of the full and comprehensive implementation of the Minsk agreements, and that all contentious issues should be resolved at the negotiating table.