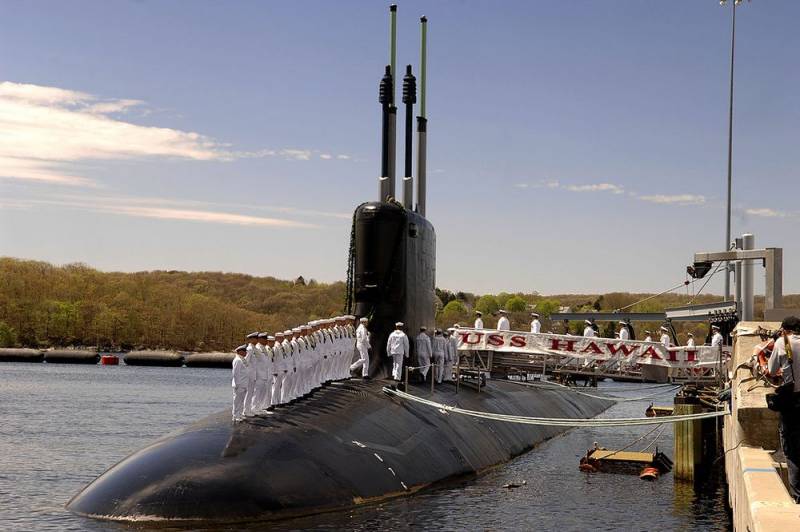 American Analytical Edition on Military
political
The National Interest reported that Washington's sale to its allies of nuclear submarines would be the "worst nightmare" for Moscow and Beijing. At the same time, the "experts" there did not even think that "the stick has two ends," that is, Russia and China, with the same success, can sell nuclear submarines to countries in need, and this will become the "worst nightmare" for the United States.
Journalist Harry Casianis pathetically wrote that the supply of Australia (a British colony) to several US Virginia-class nuclear submarines, such as Hunter / Killer (hunter-killer), will allow the United States to strengthen its military power in the Asia-Pacific region (APR). This is necessary to expand opposition to Beijing in this corner of the planet. He specified that Australia will receive nuclear submarines with greater capabilities than those that are currently in service. Why does Australia need this, he did not specify.
At the same time, a "researcher" at the Center for Independent Studies (CIS), Simon Cowan, wrote a report on the topic that he considers false the idea that Australia should not rely on foreign support. In his opinion, Australia is already heavily dependent on foreign armed forces and foreign defense companies. Therefore, if this dependence "slightly" intensifies, then nothing bad will happen.
It should be noted that CIS is an Australian frankly libertarian "research" office specializing in public policy, liberal values ​​("free market", "limited government" and others). That is, she is trying to "move her legs" official Canberra.
We remind you that the upgraded fourth-generation multipurpose Virginia submarines have two launchers of a large diameter turret type. Each of the launchers is capable of launching up to six Tomahawk-type cruise missiles with nuclear and conventional warheads. In addition, these submarines are used for special operations, sabotage operations and the fight against other submarines.
At the same time, Australia is armed with six diesel-electric submarines of the Collins type, built in this country, but designed in 1987-1989 by Kockums (Sweden). These are the world's largest non-nuclear submarines in service. Australia has no other submarines, and according to the plans of the local Ministry of Defense, they will remain in service until at least 2025. Then in Australia will build 12 new diesel-electric submarines of a new type.