The mine defense ship (minesweeper) of the Baltic Fleet of the Russian Navy "Alexander Obukhov" discovered a sunken submarine of unknown origin at the bottom of the Baltic. Russian sailors are actively looking for "forgotten" mines and other dangerous objects at the bottom of the Baltic. And it's right, because one gas pipeline is already passing along the bottom of this sea, delivering gas from Russia to Germany, and the second is being completed.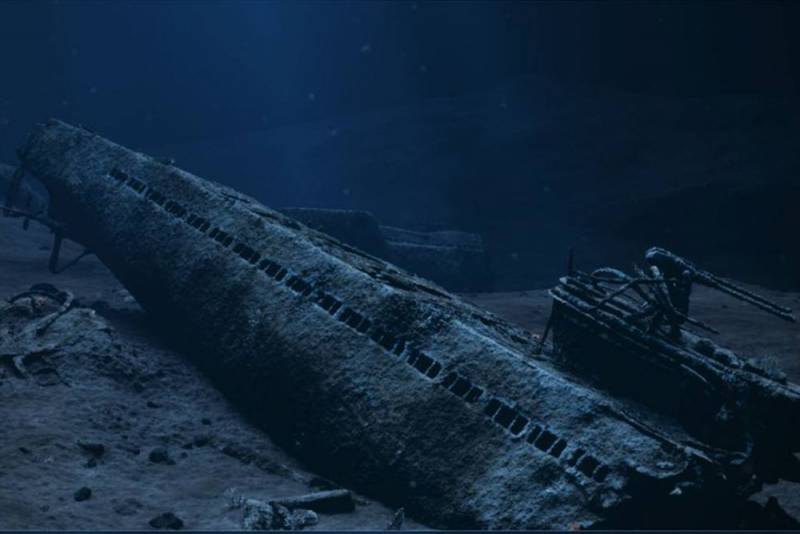 It should be noted that serious opposition from the "peace-loving" NATO bloc and its satellites to the establishment of relations between Moscow and Berlin has been going on for a decade. Therefore, the search for possible "surprises" from "well-wishers" by the Russian military sailors is a necessary and important matter. God save, as they say, saves.
In addition, during the course of the main work, sometimes real discoveries are made. As for the discovered submarine, then, according to experts, this is a German submarine from the Second World War, during which it was at the bottom.
As Vadim Malysh, co-chair of the Underwater Research Club of the World Ocean Museum, who had previously studied this area of ​​the sea, specified, he cannot say for sure whether this is the same object that was recorded earlier or a new one that has not been studied before. The thing is that visibility in the waters of the Baltic Sea, depending on the weather and time of year, is almost zero, and over the past centuries a lot of things have appeared at the bottom.
If you work sloppy flippers, then you raise a large cloud of turbidity, which then settles for a very long time. Accordingly, when working with a deep-sea apparatus, the screws that lift this turbidity from the bottom work very intensively
- explained the Kid.
In turn, Vice-Admiral Nikolai Khromov, chairman of the council of submarine veterans, is absolutely sure that the submarine discovered is not Soviet.
This boat is most similar to U-type submarines that took part in hostilities in the Baltic Sea during World War II.
- said Khromov.
It should be recalled that the city of Baltiysk (formerly Pillau) during the Third Reich was a training center for German submariners. So the submarine could sink in this area for completely different reasons, both as a result of a military conflict, and from the actions of its own crew. So, to find out the details, it will be necessary to carry out more than one dive or another underwater study.