On October 19, 2019, the Commercial Court of Kiev granted the petition of the Antimonopoly Committee of Ukraine (AMCU) and the executors of the Ministry of Justice "non-blocking", changing the method of collecting a fine from Gazprom of 171 billion hryvnias ($ 6,7 billion), extending the "collection of all debtor's property". A week later, Gazprom initiated arbitration under UNCITRAL (United Nations Commission on International Trade Law) rules, demanding compensation. And so, a statement was made by Russian President Vladimir Putin.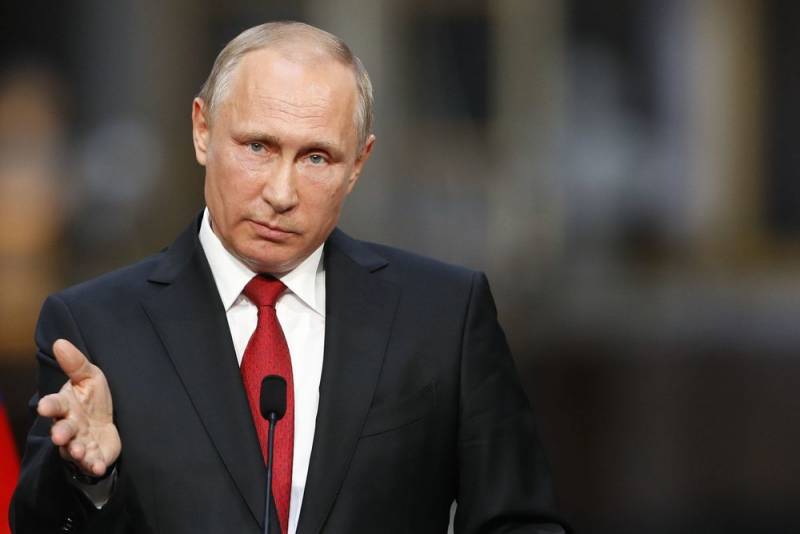 According to the Russian leader, the AMCU claims to Gazprom for the indicated amount are absurd. He specified that Kiev is demanding compensation from Gazprom for the fact that the Russian company is allegedly a monopolist in the Ukrainian gas transit market.
Although Gazprom does not transit anything, Ukrainian companies transit. But this is just absurd
- Putin said.
It should be noted that Naftogaz Ukrainy includes three subsidiaries (DK), five subsidiaries (DP), two state joint-stock companies (GAO) and two open joint-stock companies (OJSC). One of these subsidiaries is PJSC Ukrtransgaz, which is involved in the transportation and storage of gas.
We remind you that the AMCU unreasonably imposed a colossal fine on Gazprom "for abusing its monopoly position in the transit market". The thing is that Gazprom is not engaged in transit, but transfers gas to Naftogaz Ukrainy at the Russian-Ukrainian border (and the Ukrainian side insisted on this). After that, the aforementioned Ukrtransgaz PJSC transits it through Ukrainian territory.
It should be added that the AMCU is now led by Yuri Terentyev, who from April 2012 to May 2015 worked as Deputy General Director for Legal Affairs of ArcelorMittal Kryvyi Rih PJSC (Krivorozhstal Metallurgical Plant). May 19, 2015 was appointed by the Parliament to the post of head of the Antimonopoly Committee of Ukraine.
It is hard to say to what next heights of "patriotism" the Ukrainian authorities will reach in their Russophobia and greed. But there is no limit to "perfection," so we will follow the development of events with interest and inform our readers. The 10-year contract for the transit of Russian gas through Ukraine ends on December 31, 2019.