The confrontation between the new Ukrainian government and the Nazis from the Azov battalion, who oppose the separation of the parties in the Zolotoy district of the Donbass, has reached a new level.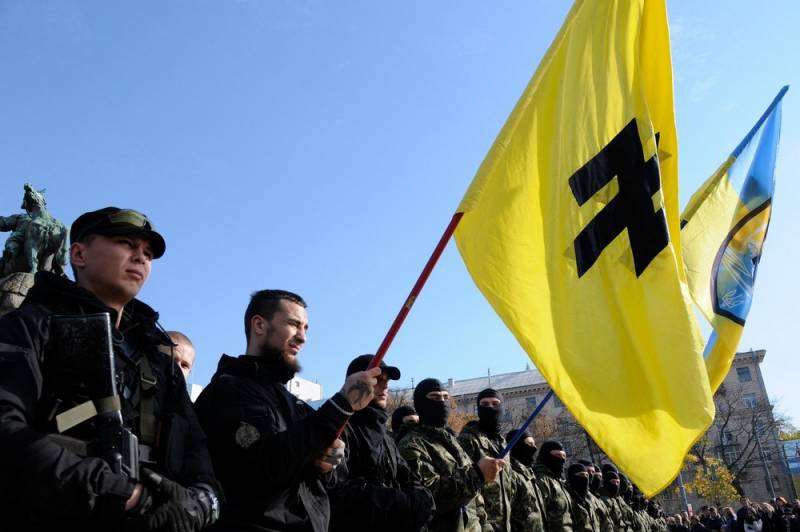 After the rallies in Kiev and regional centers, the Ukrainian Nazis decided to prevent the breeding of the parties directly in the places where this breeding should occur.
A group of Azov militants arrived in the Donbass, but ran into resistance from the police in the area of ​​one of the checkpoints near the village of Kremennoye.
Nazi leader Andrei Biletsky said the police fired on "veterans and activists" who were trying to get into the war zone.
The Azov nedofuhrer also complained that Komarnitsky, the governor of that part of the Lugansk region, which is under the control of Ukraine, is a separatist, as he gave law enforcement officers the order to stop transport with "veterans, volunteers and journalists", which follows to Zolotoye.
Reports have already appeared in the Ukrainian media that among the "veterans and volunteers" detained by the police, individuals have been identified whom law enforcement officers are looking for for robbery and other serious crimes.
Given the scum gathered in the gangs of the Nazis and nationalists, this message was hardly surprised by any of the Ukrainians.
As for Zelensky, in relations with the Nazis he is inexorably approaching the point after which it will no longer be possible to coexist peacefully with them.