Recently we
Reported
as the Turkish army began shelling Kurdish positions in northeast Syria. And now, already the leader of the Democratic Party of Kurdistan in Iraq, the former 1st president of the Kurdish Autonomous Region (from June 12, 2005 to November 1, 2017), Masood Barzani, appeals to the Russian Foreign Minister, Sergey Lavrov, with a request to protect the Kurds in Syria.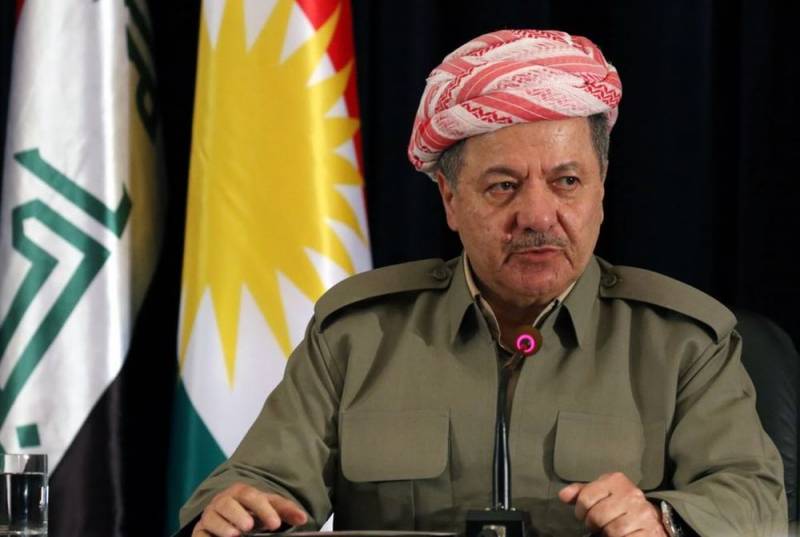 It should be noted that Barzani is really very respected and authoritative in the Middle East. Kurds call him "Kek Masud" - "Mr. Masud." Barzani is married, has eight children, and speaks Kurdish, Arabic, Persian (Farsi) and English. Usually he is laconic, cautious in his assessments, distinguished by correctness even in relation to his political opponents, avoids harsh expressions, tries to be realistic, and dislikes maximalism and extremism.
He asked Russia to play a role in preventing the suffering of this people in Syria.
- Transmits the essence of the appeal of Barzani, extremely concerned about the fate of the Syrian Kurds, a media group in Iraqi Kurdistan Rudaw.
You can understand Barzani's concern. He really worries about the fate of his fellow tribesmen living in a neighboring country. However, in this case, we are talking about the pro-American "Arab" -Kurdish group of the Syrian Democratic Forces (SDF), which control the north-east of Syria, bordering Turkey and Iraq. Under the "Arabs" there were masked terrorists from ISIS (an organization banned in Russia), the victory over which has already been announced three times by US President Donald Trump. Special units of the USA, Great Britain and France are also located there, but these "partners" did not ask for help from Russia.