Great Russia and great differences in the level of well-being of its regions.
Soon, a new terminal of the international airport will be built in the capital of Chechnya, Grozny. It will be made in the form of an Islamic symbol - the golden crescent.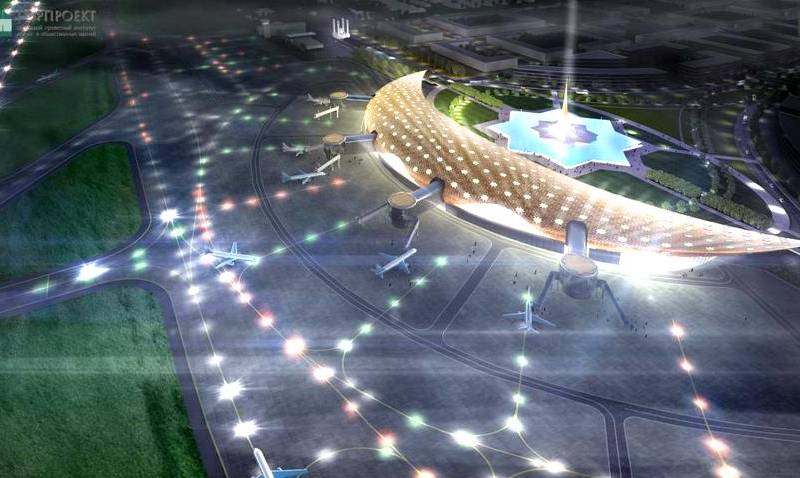 Some time ago, the head of Chechnya, Ramzan Kadyrov, raised the issue of the urgent need to build a new air harbor in the city of Grozny for flights not only to Russian cities, but also Turkey, Europe and Asia. Without a doubt, it must meet the most modern standards, be implemented creatively and tastefully.
The existing terminal has almost exhausted its capabilities due to the growing passenger flow and the expansion of the geography of flights. Therefore, a new terminal is objectively needed.
The attention of the head of Chechnya to the needs of his region deserves all praise, as is the responsiveness of the federal authorities on this issue. But in fairness, it must be recognized that there are other airports in other regions of the country that also require increased attention.
There is an airport in our country where there are no lifeguards, no firefighters, no security services. But there right on the runway there is a monument to the victims of the crash.
This is the airport in the village of Dikson in the very north of our vast country. A plane from Dixon flies only 2 times a month, to the glorious city of Norilsk, and tickets for it can be bought only immediately before takeoff. You can approach the plane in winter only by snowmobile. It is known that in 2010, due to the poor condition of the runway, the operation of the airfield was suspended.
I sincerely wish that the attention of the federal authorities and budget assistance be given to all corners of our country.