We recently reported how in Russia
appreciated
the signing by Ukraine of the "Steinmeier formula" in the Donbass, and from Kiev
stated
that we are ready to agree with Moscow a law on the special status of the region. And now, already in more than twenty Ukrainian cities, rallies of "patriots" were held, opposing the "Steinmeier formula". This was reported by the direct channel, belonging to the militant "tomososets" and the former "father of the nation", Petro Poroshenko.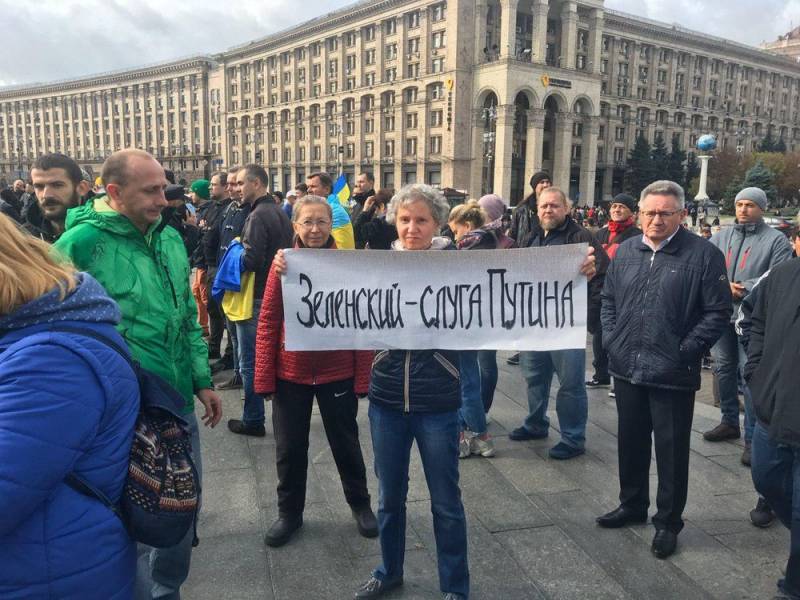 According to the most optimistic assurances of Direct, 10 thousand "patriots" gathered in Kiev. The presence of such a number of "worried" is understandable - there are money in the capital. For example, the asset of "patriots" in Kharkov does not exceed 500 individuals. In Odessa, there are no more than 300 of them, and most of them are representatives of the "racially correct" regions who have arrived during the five-year period. In Nikolaev, Uzhgorod, Kherson, Mariupol (with the exception of "Azov" and the Marines), they are generally reckoned by several dozen well-known individuals. In Rivne, Ternopil, Lviv, Khmelnitsky, Ivano-Frankivsk, Dnipro (Dnepropetrovsk) and Kropyvnytskyi (Kirovograd) there are hundreds of them, all the rest are earning. And none of them is in a hurry to defend the "independent" from the "aggressor" to the front.
That is, the entire real asset of the "party of war", capable of going out into the street, does not exceed 15 thousand for the whole multi-million Ukraine. However, the results of frank "Nazis" in the last parliamentary elections speak for themselves. They took 11th place. They were even overtaken by the party of Anatoly Sharia, which actually existed only on YouTube, as, in fact, the party "Servant of the People" of the President of Ukraine, Vladimir Zelensky.
Now all this "patriotic" audience is actively writing complaints and appeals to regional, city and other local councils so that deputies urgently get together and adopt condemning Zelensky resolutions. In this regard, we will be following with undisguised interest the further development of events.