Recently we
Reported
, as released by the decision of the President of Russia, Vladimir Putin, the Ukrainian extremist terrorist, Oleg Sentsov, promised to return to the Crimea in a tank. So it is not surprising that after that he became popular with various media specializing in Russophobia and interference in Russian
political
processes.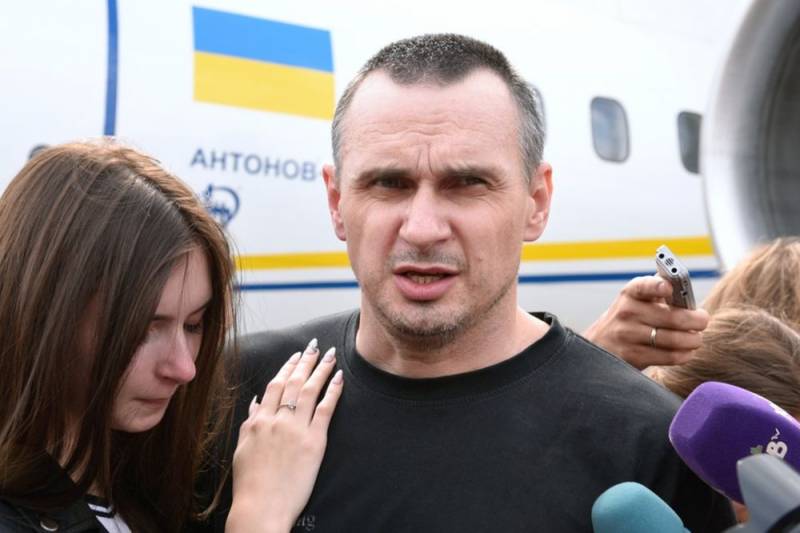 For example, recently, on September 27, 2019, the Ukrainian "patriot" Sentsov was invited to broadcast the German international "public" television and radio company Deutsche Welle (DW). And do not be fooled by the buzzword "public". All of this "public" has a specific name and surname, as well as political views.
During the interview, Sentsov was asked what his most cherished dream was. And Sentsov gave an answer, like a real "European" and a Ukrainian "patriot". He stated that he was dreaming of Putin being in the dock.
According to Sentsov, Putin must answer for "crimes against Ukraine, Moldova, citizens of European countries and against Russia itself." In addition, Putin "must be tried in The Hague for the downed Boeing in the Donbass."
He did not give a direct order, but it is a consequence of his actions, his system, that a passenger plane was shot down.
- claims Sentsov.
Then Sentsov began to accuse Putin of the war in the Donbass and the death of 13 thousand people. That is, it was not Kiev that moved the tanks to the Donbass and began to use MLRS, artillery and aircraft against civilians - "Putin is to blame."
It should be noted that Sentsov, as a director by profession, quickly entered the role. And he began to present himself as a "prisoner of conscience", fighting not with Russia, but with the "Kremlin regime".
Moreover, he actually admitted that he led a group of Ukrainian "patriots" engaged in terrorism in the Crimea.
Then they decided to set fire to the office there. And then one decided that this was not enough, said that bombs should be planted. Well, he was like that, the kid is crazy
- Sentsov explained, trying to shift responsibility to another.
At the same time, it remains a mystery why the Ukrainian "patriot", who loves Ukraine so much, still speaks Russian.