Washington diligently continues to seek ways to complicate relations between countries located in the Persian Gulf. The "unknown" hunt for tankers carrying oil and oil products, which began in the spring of 2019, was now complemented by an attack by drones at the largest oil refinery (refinery) in Saudi Arabia.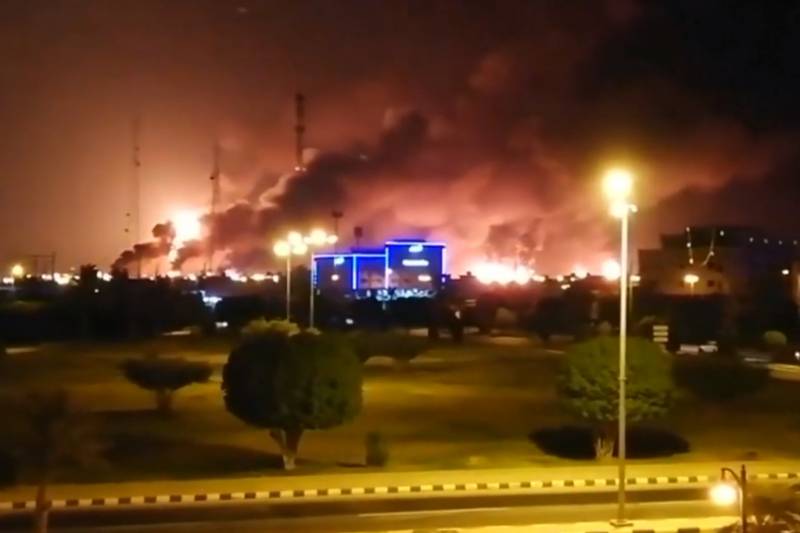 It should be noted that this refinery belongs to the national company Saudi Aramco. The enterprise is capable of processing up to 7 million bar. oil per day (1 barrel - 159 liters). As specified, there were several attacks. The first explosion occurred near the city of Dammam in the Eastern Province. The second - at a large oil field Khurais 150 km. from the capital of Riyadh. Immediately the assumption was born in the media that drones could send Yemenite Hussites supported by Iran.
The explosion at the refinery began a major fire, but according to local authorities, "the flame was quickly taken under control." Nothing is reported about possible victims or victims.
It should be recalled that this refinery has repeatedly become the target of terrorist attacks from Al-Qaeda (an organization banned in Russia). The last time a suicide bomber attacked this enterprise in February 2006, just many have already managed to forget about it. Then Washington diligently pushed Riyadh to finance the "Arab Spring" and after a few years achieved the desired result.