A public demonstration of patriotism with and without cause, which in Ukraine is almost part of the state
policy
, irritates foreigners who have to deal with this.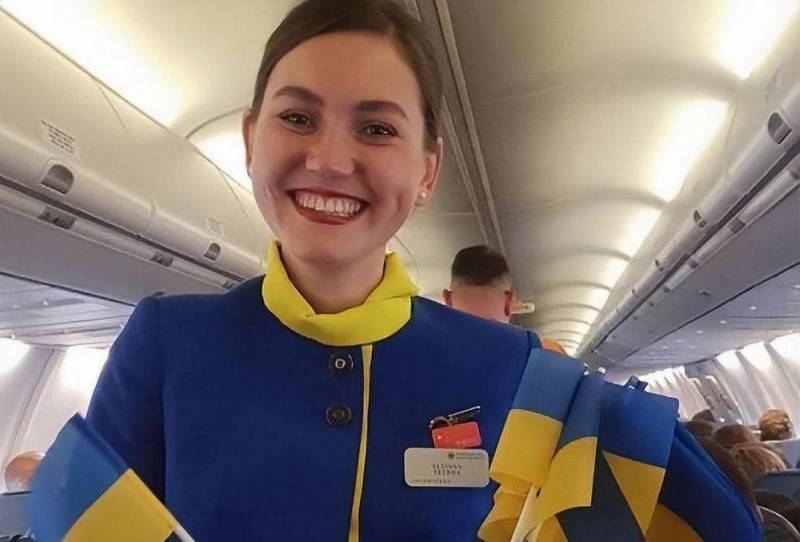 UIA Airlines, owned by the oligarch Kolomoisky, surprised many foreign passengers on the day of "independence" of Ukraine, which is celebrated on August 24.
The airline management made its stewardesses, before takeoff, to sing the anthem of Ukraine through loud-speaking communication on the plane.
Foreigners were much surprised at such a "performance".
The feelings of UIA's customers are easy to understand: before takeoff, it is hardly a pleasure to listen to the Ukrainian anthem, which, unlike the anthems of other countries, is not so solemn as mournful.
About how foreign passengers reacted to the creativity of Ukraine International Airlines, the comments that they left on social networks indicate:
He expected that they would traditionally begin to offer food, but instead the stewardess tightened the song. It was reported that this is a Ukrainian anthem. The melody, of course, is quite beautiful, but in flight it is better to have something more fun.
At first I thought, really need to get out of the chair. Well, at least for what did not come to this, thanks.
A thought suddenly appeared in my head: maybe now the whole crew of the plane will go out into the aisle between the seats in national Ukrainian costumes and start dancing. And the plane will fly on autopilot.
It would be much better if the anthem consisted only of music. Because the text is terrible and completely unsuitable for the anthem. What the recipients of this text thought is unclear. The music is really good. But the proverb "as the ship is called, so it will sail" was by no means formed from scratch.
The passenger from Latvia commented on the situation on board best, and what happened caused an association with Bulgakov's "Master and Margarita":
Crying, the young lady suddenly started, shouted hysterically:
Here again!
- and suddenly sang a trembling soprano:
Glorious sea sacred Baikal ...

The courier, who appeared on the stairs, threatened someone with his fist and sang along with the young lady in a dull, dull baritone: Glorious ship, omul barrel! .. Distant voices joined the voice of the courier, the choir began to grow, and finally the song thundered in all corners of the branch . In the next room, N 6, where the accounting and verification department was located, someone who stood out was someone who was powerful with a hoarse octave. Accompanied by the chorus of the amplifying crackle of telephone sets. Gay, Barguzin ... move the shaft! .. - the courier shouted on the stairs. Tears flowed down the girl's face, she tried to bite the bullet, but her mouth opened up by itself, and she sang an octave higher than the courier: Well done be nearby!