The temporary lull on the "gas front" seems to be nearing completion. A sure sign of this is the resumption of increased interest in the topic of "blue fuel" of the world's leading media, experts in the field
economics
и
politicians
... This interest is not at all idle, first of all, due to the inexorably impending cardinal change in the picture of gas supplies to the main region of consumption of this energy resource - Europe.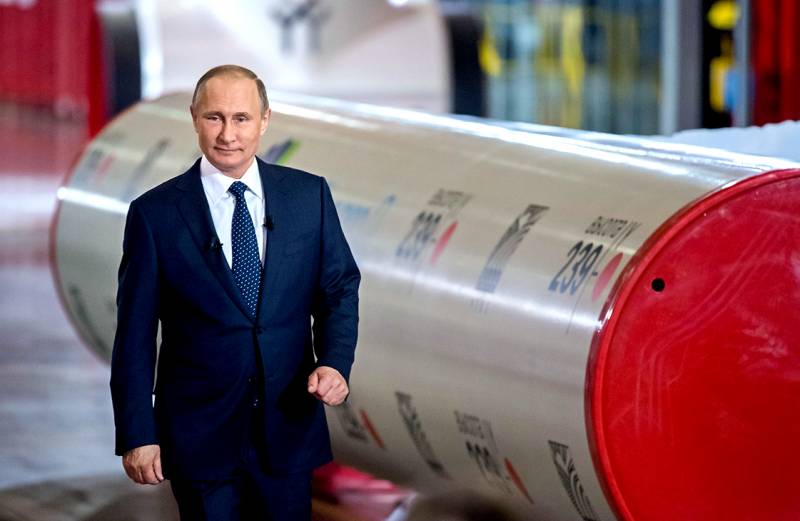 It must inevitably lead to both the successful promotion of Gazprom's most significant projects in this area, and the inevitable, in practice, cessation of the Ukrainian transit customary for the Old World. A sharp intensification of competition in the local LNG market is also observed. Already today, many analysts, weighing and comparing all these factors, are trying to build contradictory forecasts regarding the further development of the situation. Let's try to figure them out.
Threat from overseas
The United States is stubbornly unwilling to come to terms with the fact of an uncontrollable advance to the West of the Nord Stream 2 steel thread, desperate to prevent the completion of the project. In this case, all means are used, up to the most dubious ones, which cause only a grin. So, while visiting the White House, the President of Romania, together with the owner of the White House, made a sharp demarche about the "opposition to the Russian gas pipeline". The 99% joint statement consists of a long-awaited verbal chewing gum about the "threat to Europe's energy security" and similar cliches, but there are also funny moments in it. For example, the assertion that "the gas resources of Romania" will be quite enough to ensure this very European security. Are you sure ?! Bucharest itself may not really need Russian gas. But his neighbors in Budapest, Sofia, Athens and other countries of Southern and Southeastern Europe, today they can't wait for the completion of the "Turkish Stream" - that is, again, all the same Russian gas supplies. About Germany, France, Austria and say nothing. However, it is their interests that concern Washington the least.
Alas, there are enough politicians who continue to naturally click on this subject.
Time to kill Putin's favorite project is running out!
Cries the Atlantic Council.
The publication sings the horn for the sanctions project of senators Ted Cruise and Genie Sheikhin, directed against European companies providing deep-water pipeline sections in the project, and calls "to stop the Kremlin's weapons at all costs, which carries an existential threat to Europe!" In turn, the much more sane Forbes admits: no sanctions will be able to disrupt the Gazprom project today. The maximum is to slow down and make it more costly. The introduction of the planned restrictions by the United States may be rejoiced by "some Eastern European countries" (naturally, they certainly won't fall under them!), But with leading EU countries such as Germany, Austria, France and others, Washington has its own of that far from cloudless relations, it will spoil completely and for sure. The Russians will not abandon their plan for anything - at least out of principle, the publication quite rightly asserts. So is it worth breaking spears? According to Forbes authors, the United States is much better off focusing on building up its European supply of liquefied natural gas, thereby "creating more and more competition for Russian exports."
The battle for LNG and new routes
The liquid "blue fuel", with the help of which some people dream of thoroughly "moving" Gazprom in Europe, as practice has shown, is not at all a problem for him. Rather, quite the opposite. Wanting to "draw" "gloomy prospects" for our gas giant, some analysts are trying to beat the fact that, say, among the energy carrier supplied to Western and Central Europe, the share of LNG has increased from October 2018 to the present time to as much as 14%, while a year ago, over the same period, it was only 5%. Allegedly, precisely because of this, Gazprom for the first time, starting from 2014-2015, reduced its share in the EU energy market. Well, yes, that's true. However, the main thing, as always, is in the details. Firstly, this "historical decline" was only 1% (for comparison, the share of Norwegian Equinor shipments fell by 5%). And secondly, be that as it may, Russia is firmly holding second place in LNG exports to Europe, second only to Qatar. The United States, which seems to have increased its supplies to the Old World fivefold, weaves in our "tail" with little chance of at least equalizing volumes. The share of LNG delivered from across the ocean in the total gas consumed by Europe is as much as 2%. Since the launch of the Yamal-LNG facilities by Gazprom, producing 16.5 million tons of liquefied gas each year, the Americans' hopes to oust stubborn Russians at least in this market have completely turned into ghostly ones.
However, the main priority for Russia is still pipeline supplies. And here there are definitely good
news
. Representatives of the TürkAkım project company say that the construction of the receiving terminal of the Turkish Stream gas pipeline, located in the Turkish province of Kirklareli, has almost been completed. Transportation of fuel through it will begin this year. This gas pipeline, we recall, has two "lines" through which Russian gas will go to Turkey, and then to Southeast and Southern Europe. "In line" to him are already lining up Italy, Greece, Bulgaria, Hungary, Serbia. As it became known recently, Moldova is also showing the most active interest in producing "blue fuel" through this pipeline. This fact was confirmed by the country's economy minister, Vadim Brynzan, who stated that Chisinau was already negotiating with Gazprom on this issue. Well, given that each of the Turkish Stream lines has a pumping capacity of 15.7 billion cubic meters of gas per year, there can be no doubt that Russia's allegedly "shaky" positions in the European energy market will soon be fundamentally strengthened.
Problems possible and inevitable
However, it would be wrong to say that our country's affairs with European export of "blue fuel" are completely cloudless. The record drop in spot gas prices in the EU markets, of course, was reflected in it not in the best way. However, Gazprom has every chance to "recoup" this winter, when the cost of energy resources, according to all forecasts, will rise sharply. These are urgent matters. In the future, some concern is caused by the fact that some people in Europe today are again trying to reanimate the idea of ​​creating a "corridor" for gas from Turkmenistan, bypassing Russian pipelines. If you believe the EU representative in Central Asia, Peter Burian, this issue was seriously raised during the recent Caspian Economic Forum, and was also discussed during a meeting of its participants with representatives of the Turkmen authorities. To implement the project, a consortium is supposedly already created, which includes enterprises from Germany, France and even China. Well, the eternal desire of our European partners to "lay eggs in different baskets", as well as the desire of comrades from the Middle Kingdom to get into any significant project in Eurasia, are not news. On the other hand, there are much more questions regarding the voiced ambitious plans than there are answers.
Firstly, various options for delivering gas to the EU both from Turkmenistan and from the Caspian fields have been exaggerated for 20 years, if not all 30. It's still there ... Secondly, the project has a strong opponent in the person of Tehran. During the forum mentioned above, Behruz Namdara, representing the Iranian National Gas Company, once again categorically objected to laying the pipeline through the Caspian, saying that it would cause "irreparable harm" to the ecology of the entire region. Iran has its own selfish interests and is unlikely to give them up. Well, and thirdly, even if this gas pipeline is built, its capacity will be, according to available estimates, about 16 billion cubic meters per year. 6 of them will inevitably "take over" Ankara. Europe will get a maximum of 10. That is - less than one "thread" of our "Turkish stream" gives. On the other hand, to completely discount even such a prospect of competition would be reckless. As soon as "blue fuel" came to Turkey from Azerbaijan, they immediately reduced purchases of Russian gas from 12.7 billion cubic meters (in 2018) to 8.1 billion this year.
Well, and finally - Ukraine ... There is no doubt that Kiev will make an absolute maximum effort in order to maintain the longed-for and necessary transit for itself. What tricks he will decide at the same time - I can't even guess. Although, on the other hand, as it became known the day before, the head of the Ukrainian Naftogaz, Yuriy Vitrenko, publicly admitted: most likely, from January 1, 2020, no transit is unbroken. Farewell, 3% of national GDP and the possibility of blackmailing Europe ... At the same time, the publication mentioned above in the American Forbes is a very striking indicator of the West's sharply changed attitude to this issue. Its author makes an extremely unpleasant conclusion for Kiev: transit did not help Ukraine avoid the political and economic crisis, and the desire to preserve it will only "help ensure that its market remains uncompetitive and ineffective." Yes, and "dependence on Russia" will continue, of which it has been so long and ardently dreamed of getting rid of it! So, everything that happens will be "perfect" only to the benefit. Well - this is definitely happy. It is hoped that if Russian energy exporters have to solve any problems, those at least will not be purely political in nature, which has nothing to do with normal economic issues.