Today, at 06:38 (Moscow time), the Soyuz-2.1a rocket with the Soyuz MS-14 spacecraft, on board which housed the domestic anthropomorphic robot FEDOR, which later received the call sign Skybot F-850, successfully launched from the site of the Baikonur cosmodrome (Kazakhstan). The launch of the device was normal. The ship entered orbit in 8 minutes. 49 sec after the start. Just before the launch, Fedor uttered the legendary phrase of Yuri Gagarin: "Let's go!"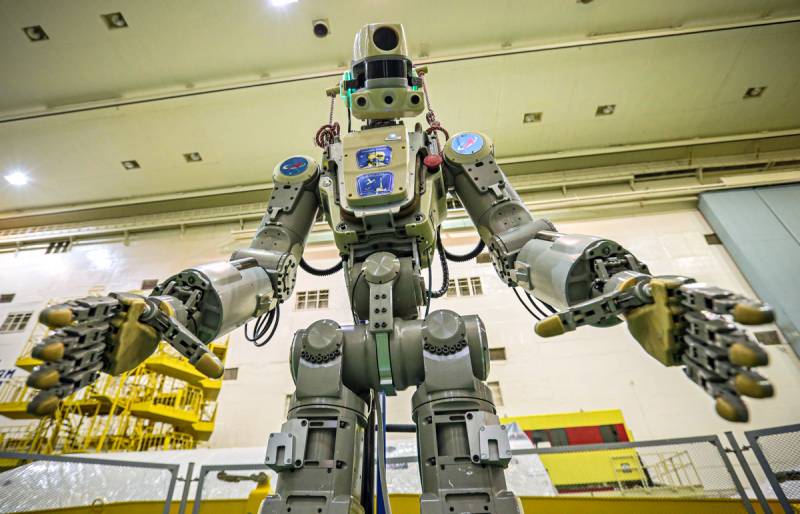 Recall that the Soyuz MS-14 International Space Station will "get" for two days. Automatic docking should occur on August 24 at 08:30 (GMT). On board the station, FEDOR will stay until September 6th. The return of the anthropomorph to the earth should take place on September 7 at 00:35 (Moscow time). In general, in the role of an astronaut (if we take the 100-km border as the starting point), the Russian humanoid robot will stay for about 17 days.
It is worth noting that the medium-class medium Soyuz-2.1a with the domestic digital control system is used for the first time. This missile should replace the Soyuz-FG apparatus, which uses a similar system of Ukrainian production.
As for the first Russian cosmonaut robot, he coped with his first task "perfectly". "Fedor" collected, processed and transmitted telemetry data on the work of "Soyuz-2.1a" to the MCC, and also reported on the functioning of the ship's onboard systems, overloads and temperature and humidity conditions. Then it will be tested in copy mode on board the ISS.