On August 13, 2019, it became known that the ex-president of Kyrgyzstan, Almazbek Atambayev, was charged with committing particularly serious crimes. According to the head of the Office of the Prosecutor General of Kyrgyzstan for Surveillance of Operative Investigation Activities (ORD) and the investigation, Zamira Beishekeyeva, the former head of state, is accused of murder, hostage-taking, rioting and other crimes.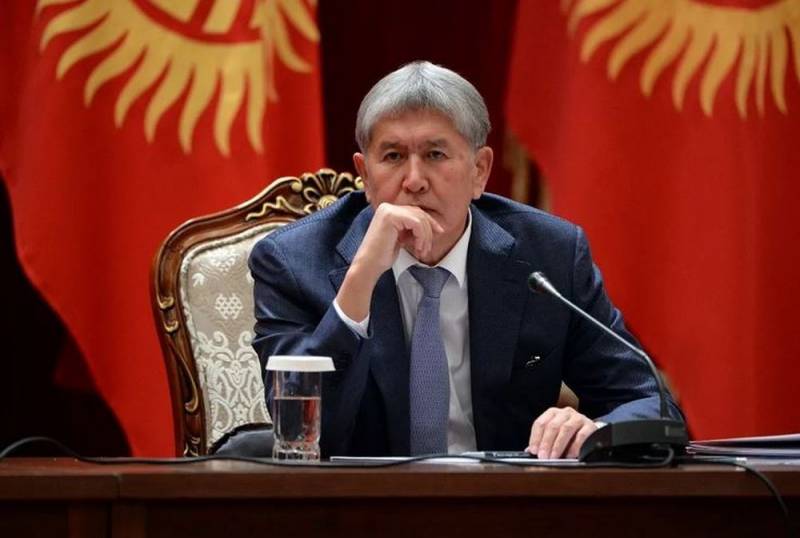 Atambayev was given notifications for a number of particularly serious crimes: such as organizing riots, murder, attempted murder, taking hostages and using violence against a government official.
- said Beishekeev.
It should be noted that the head of the State Committee for National Security (SCNS) of Kyrgyzstan, Orozbek Opumbayev, has already made a statement accusing Atambayev of preparing a coup. Under Kyrgyz law, Atambayev now faces life imprisonment.
It should be recalled that Atambayev was detained on August 8, 2019 in his house, located in the village of Koy-Tash, Alamudun district. The special operation of the security forces, accompanied by an unsuccessful attempt to storm, lasted about a day. After that, clashes between law enforcement officers and supporters of the former head of state began in Bishkek (the capital of Kyrgyzstan).
Many netizens are already wondering why the new Kyrgyz authorities took such a step, exacerbating the situation in the country. Atambaev led Kyrgyzstan from December 1, 2011 to November 24, 2017. On June 27, 2019, he was stripped of his ex-president status and, therefore, of immunity.
On August 7, 2019, Kyrgyz law enforcement authorities attempted to detain Atambayev, but they did not succeed because of opposition from supporters of the former president. About 40 people were injured. One of the special forces officers died from a gunshot wound, and the chief of the Main Directorate of Internal Affairs of the Chui region was in serious condition in the hospital.
On August 8, 2019, law enforcement officers still managed to detain Atambayev, but after he surrendered. After that, the Pervomaisky District Court of Bishkek arrested (took into custody) Atambayev, sending him to a pre-trial detention center until August 26, 2019. Atambayev calls all the charges absurd.