The design with a cigar-shaped fuselage and single-tail tail with horizontal and vertical stabilizers has been used in civil aircraft construction for several decades. Despite the fact that this scheme has proven itself in passenger aviation, its capabilities to increase flight efficiency and improve other characteristics are practically exhausted, which pushes designers from all over the world to search for non-standard solutions.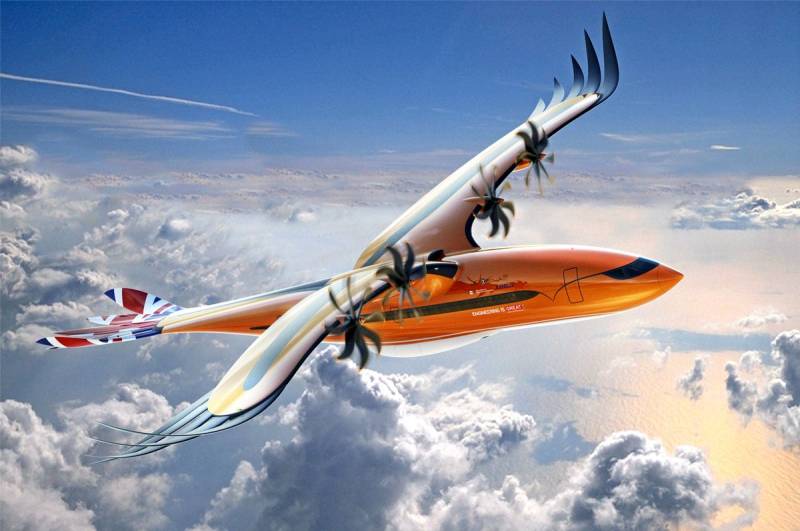 The French giant Airbus proposed its own version of an innovative aircraft on the eve, showing a prototype of a regional passenger aircraft called Bird of Prey. The device got its name not by chance, since outwardly it really resembles a bird of prey.
The airliner, made according to the high-plan scheme, is capable of receiving 80 passengers on board and flying at a distance of up to 1500 km. Both wings of the aircraft bend strongly at the base and are attached to the fuselage separately (unlike traditional high-wing planes). Under each of them two hybrid turboprop engines are installed. But this is not all: the wingtips and the tail, which does not have a vertical stabilizer, are equipped with moving elements of different lengths that resemble bird feathers and allow you to control the roll.
According to the developers, the use of such unusual design solutions, coupled with the installation of an efficient hybrid engine, would reduce fuel consumption by up to 50%, compared with similar aircraft.
However, despite the above advantages, the company is not going to establish mass production of the presented concept. However, ideas and
Technology
, which were used to create it, can find application in future aircraft models from Airbus.