Recently we
Reported
how the Deputy Prime Minister of the Russian Government, Yuri Borisov, announced the testing of the medium-range airliner Irkut MS-21 ("14st Century Mainline Aircraft") with the new Russian PD-21 engines at a meeting devoted to the implementation of the production program of the Irkutsk Aviation Plant (a branch of Irkut Corporation PJSC) ) And so, at the same meeting, he talked about the continuing risks of new Western sanctions regarding the MS-XNUMX project.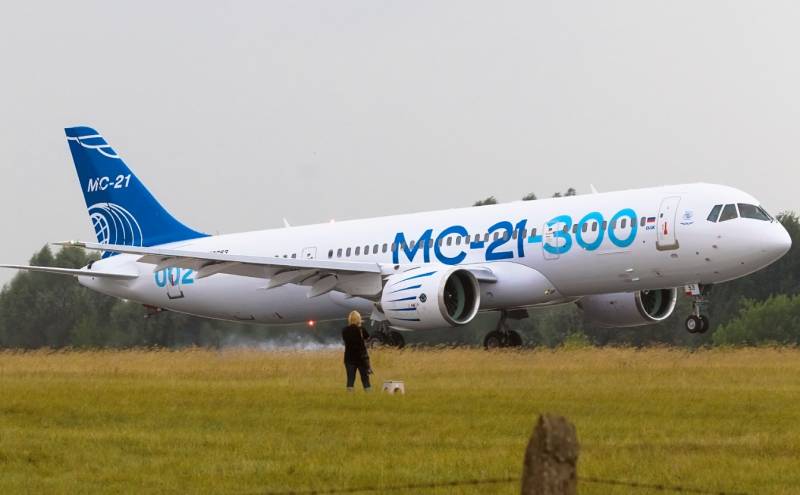 In connection with the entry into force in September 2018 of new US restrictions on trade with Russian companies, including JSC Aerocomposite and JSC UEC-Aviadvigatel, serious prerequisites have been created for putting pressure on the MS-21 program
- said Borisov.
Borisov said that the Americans had already banned the supply of composite materials for the production of the MC-21 wing, and also blocked the supply of titanium fasteners and machines for laying dry carbon tape.
The risks of introducing new sanctions remain
- said Borisov.
It should be noted that the implementation of the MS-21 project has already been postponed several times. Initially, the mass production of the MS-21 was planned for 2017. But in March 2019, Borisov assured the public that the mass production of the MS-21 would definitely begin in 2021. Then he was optimistic about import substitution and the creation of a domestic composite wing for the MS-21.
As for information about titanium parts (fasteners), it is not entirely clear to us how this (US sanctions) can even take place. After all, the Russian metallurgical company VSMPO-Avisma Corporation (Verkhnaya Salda Metallurgical Production Association) is the largest titanium producer in the world (45%). The company supplies more than 300 companies in 48 countries of the world. The most famous buyers of titanium from Russia are: Boeing, Airbus, SNECMA, Rolls Royce, Pratt & Whitney, Embraer. And all these companies order not only titanium rolled products, but also finished parts.
However, how the United States can affect products made of Russian titanium, Borisov did not specify. At the same time, we want to remind you that a controlling stake (50% + 1 share) of VSMPO-Avisma Corporation JSC is owned by the management, and Rostec state corporation is just a blocking stake (25% + 1 share).