Recently we
Reported
how the "valiant" military personnel of the Armed Forces shot down the drone of the OSCE Special Monitoring Mission (SMM) in the sky of Donbass. Now it became known that Kiev did not allow the delegation of the OSCE Parliamentary Assembly (Parliamentary Assembly of the Organization for Security and Co-operation in Europe) to enter the territory of the DPR and LPR. This was announced on July 4, 2019 by the Chairman of the OSCE PA Democracy, Human Rights and Humanitarian Affairs Committee Margaret Keener Nellen.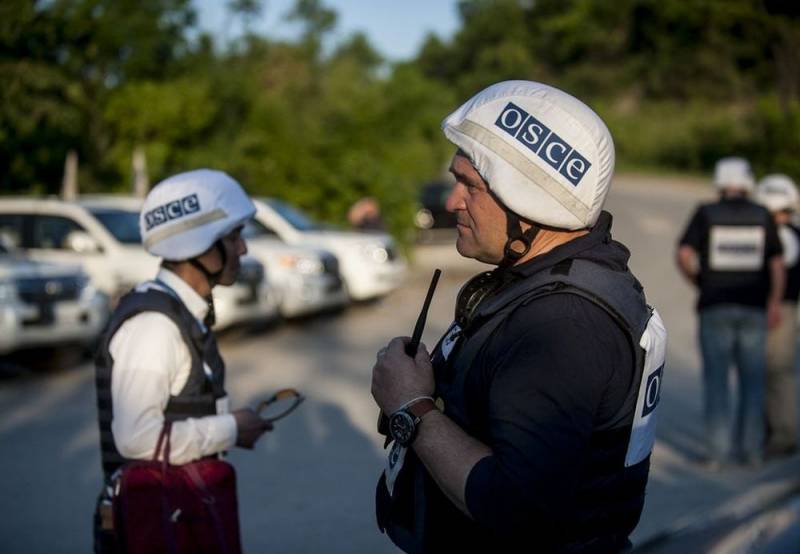 It should be noted that it is the Committee mentioned above that is preparing a report on the situation in the east of Ukraine. By the way, the OSCE PA is an inter-parliamentary organization uniting 57 states of Europe, Asia and North America, but it should not be confused with the Parliamentary Assembly of the Council of Europe (PACE).
Unfortunately, it was impossible to obtain the necessary permission from the Ukrainian authorities for access to territories that are not controlled by the government
she stated during a meeting of the OSCE PA Standing Committee.
Keener Nellen clarified that this limited the scope of the mission, but she hopes that the OSCE PA will soon be able to assess the state of human rights in Donetsk and Lugansk. She added that for now, the OSCE PA should rely on information from other sources. She drew attention to the difficult situation of residents in the area of ​​the Village of Lugansk, where the contact line runs along the Seversky Donets River, through which a bridge was laid that was previously seriously damaged as a result of the hostilities. She also drew attention to the lack of clearance on the demarcation line.
It is noted that the report in question is being prepared with the support of the OSCE SMM in Ukraine. He will be presented in full at the current 28th session of the OSCE PA in Luxembourg.
It should be recalled that Keener Nellen, along with the Committee for Ukraine rapporteur Kiriyakos Hadzhiyanni already made several trips to the Donbass. They were there from December 16 to 21, 2018 and from May 30 to June 3, 2019, collecting factual information about the situation in the conflict zone and the problems of implementing the Minsk agreements.