Russian nuclear icebreakers began to work in the ice open spaces of the Arctic much more intensively than before. The intensity of their work over nine years has almost doubled - from 156 days in 2010 to 270 days in 2019.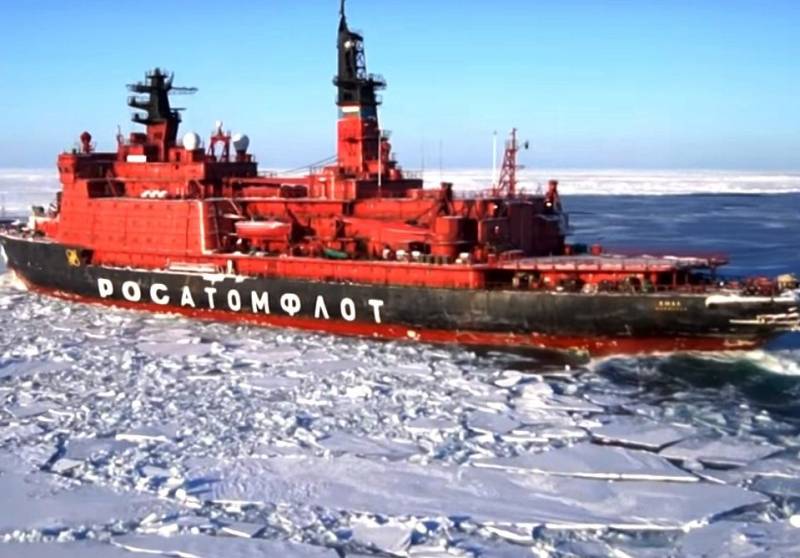 According to Mustafa Kashka, Atomflot's general director, currently new 22220 nuclear-powered universal icebreakers are being constructed. Contracts for the construction of several additional icebreakers, including the Leader icebreaker, should be signed in 2019.
Three icebreakers are being built at the Baltic Shipyard. On May 25, 2019, the nuclear icebreaker of project 22220 Ural was launched. The construction of the leading icebreaker of the Arctic series and the icebreaker Siberia are ongoing.
It is known that Russia now has eight icebreakers operating on the Northern Sea Route (NSR). These are four atomic icebreakers - Vaigach, Taimyr, Yamal and 50 years of Victory, and four diesel-electric icebreakers - Admiral Makarov, Captain Dranitsyn, Captain Khlebnikov and Krasin. But for the full development of the Northern Sea Route requires a larger number of ships that can move in the ice of the North Ocean.
The state allocated 6348,1 billion rubles for the implementation of the national project "Comprehensive Plan for the Modernization and Extension of the Main Infrastructure". Within five years, Moscow plans to increase the volume of transportation of various cargoes along the Northern Sea Route by 8 times.
By 2024, traffic volumes should reach 80 million tons per year. It is precisely with the aim of increasing freight traffic through the NSR that it is planned to build 4 new icebreakers that will clear the way for cargo ships.
In addition to the construction of icebreakers, the development program of the Russian Arctic also involves the creation of infrastructure for cargo transportation in Arctic ports.