The Ukrainian "patriots" have long worn out on social networks that the drones of the OSCE Special Monitoring Mission (SMM) have completely "unbelted" and fly wherever they want, "sniffing" secret information about the movements of the "strongest" on the continent in favor of Moscow. You can understand their indignation, because the cities of Donbass can no longer be "democratized" with the help of large-scale strikes by MLRS and artillery, you have to fuss, change positions and hide
machinery
from the "all-seeing" OSCE, which causes inconvenience.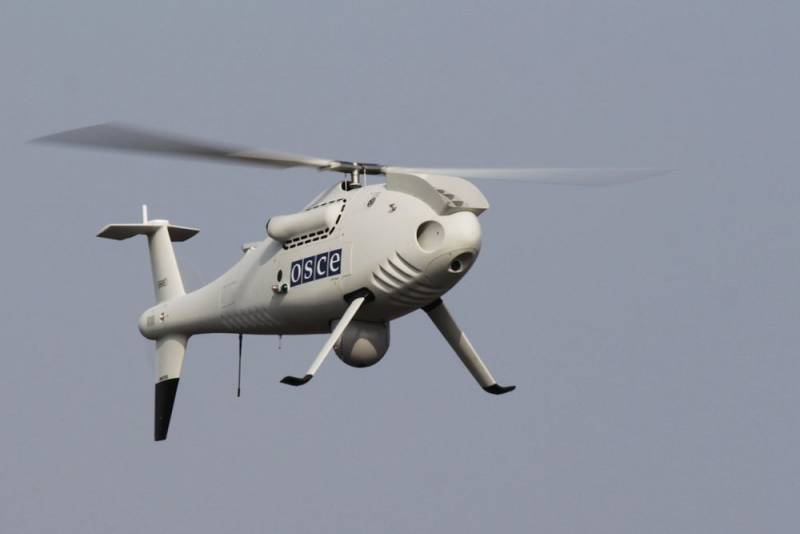 Indeed, sometimes OSCE drones fly to where they are not at all welcome. Therefore, they are knocked down and not stand on ceremony. For example, on June 28, 2019, an OSCE short-range drone discovered 1 self-propelled howitzer 2C3 Akatsiya, 152 mm, which "lazily crawled" in the area of ​​the demarcation line on the side controlled by Kiev. After this, a ceasefire violation was recorded and "unknown shells" flew into the territory of the LPR.
On June 29, 2019, an "arrogant" OSCE drone appeared in the area of ​​the Zolotoye settlement, but the Armed Forces of the Armed Forces quickly "landed" it with small arms. After that, on the SMM official website
OSCE
message appeared:
On the afternoon of June 29, while on the southern edge of the breeding site in the Zolotoy area, the SMM team carried out a short-range UAV flight over that site. When the UAV flew over the area between the front lines of the Armed Forces of Ukraine and the armed forces, which was approximately 250 m southeast of the railway bridge and approximately 1–2 km north-northwest of the location of the SMM patrol, observers heard at least 5 bursts of small arms at a distance of about 1-2 km to the north-north-west, which, according to estimates, were sent to UAVs. Immediately after these lines were released, the SMM team lost control of the UAV. According to observers, UAVs were probably shot from small arms, and the aircraft crashed. The SMM patrol has left the area. It was not possible to return the UAV.
After that, an officer of the LPR People's Militia press service, Ivan Filiponenko, clarified at a briefing that in addition to radio-electronic suppression of the control channels of the OSCE drones, the Ukrainian security forces regularly bombard these drones in order to conceal the weapons prohibited by the Minsk agreements.
So, on June 29, by order of the commander of the 54th brigade of the Armed Forces of Ukraine, Maistrenko, an OSCE special mission UAV was shot down from small arms in the area of ​​the Zolotoe settlement, which had previously been involved in video recording of activities in the area of ​​the separation of forces and assets in Stanitsa Luganskaya, and also recorded on the outskirts Vyskriva village self-propelled howitzer "Acacia"
- said Filiponenko.