Famous Italian artist Dario Gambarin does not use brushes and canvases for his paintings, but plows and fields. These works are glorified by the artist-tractor driver. The last huge picture was a portrait of the baptist of Russia - Prince Vladimir. His Gambarin timed to coincide with the visit of Russian President Vladimir Putin to Italy.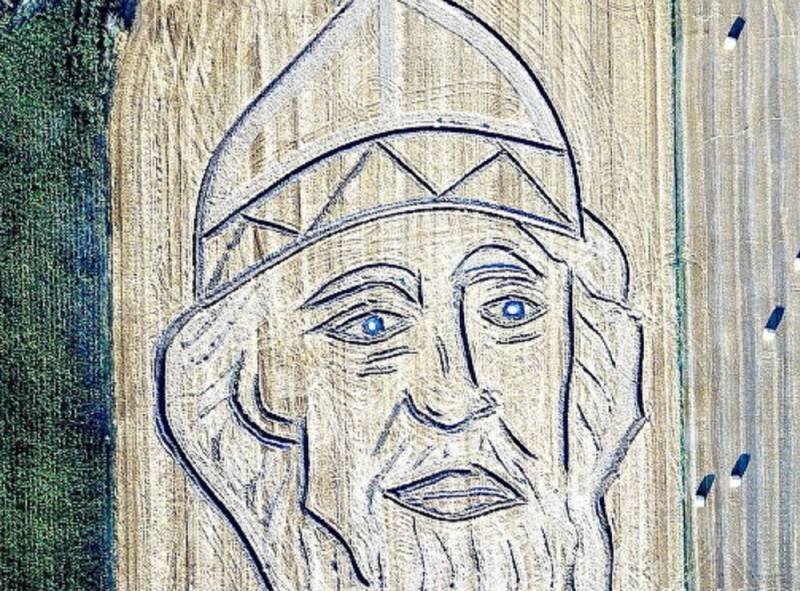 It should be noted that Putin will visit Italy on July 4, 2019. As part of this visit, he will hold talks with the country's leadership, and will also meet with the 266th Pope Francis (Franciscus, before being elected - Bergoglio, Bergoglio).
Gambarin's work is really well known. He has been "painting" such paintings for many years. For example, in 2013, he portrayed Pope Francis, and in 2017, Vladimir Putin (135 meters wide). He also painted Leonardo da Vinci, Fidel Castro, Barack Obama, Donald Trump, Xi Jinping and others.
At the same time, Gambarin explained why he chose Prince Vladimir for his next drawing (portrait). However, Russophobes have already managed to douse the artist with sewage on social networks.
First of all, both of them are united by a name. At the first meeting with Pope Francis in 2013, Putin presented him with an icon of Our Lady of Vladimir. And I wanted to make a return courtesy, and as a return gift I dedicated to him the image of Vladimir, one of the most revered saints in Russia
- said Gambarin.
By the way, the portrait of Prince Gambarin was copied from the monument to Vladimir, erected on Borovitsky Hill in Moscow in October 2016. The area of ​​the picture is 24 thousand square meters. meters (about 200 meters long). The artist really hopes, although he does not understand the intricacies of diplomacy, that Putin will invite the Pope to Moscow.
By the way, the artist draws with a tractor in his field, which is located in the Veneto region in the north-east of Italy between the Adriatic Sea and the Alps. This is a popular region of the country for tourists. There are magnificent frescoes by Giotto in Padua, luxurious Palladio villas in Vicenza, romantic Verona and medieval Treviso, magical and elusive Venice, a city on the water that many people dream of visiting.
The drawing will last for a week, then the field will be plowed and sown again. According to the tractor driver himself, for him, such a work is "a bit of a meditation." By the way, the conditions for creativity are difficult. The artist repeatedly had to create his next masterpiece at a temperature of about 50 degrees Celsius, because his tractor does not have air conditioning.