In Hong Kong, riots continue due to the adoption of a law on the possibility of extradition of criminals from Hong Kong to mainland China.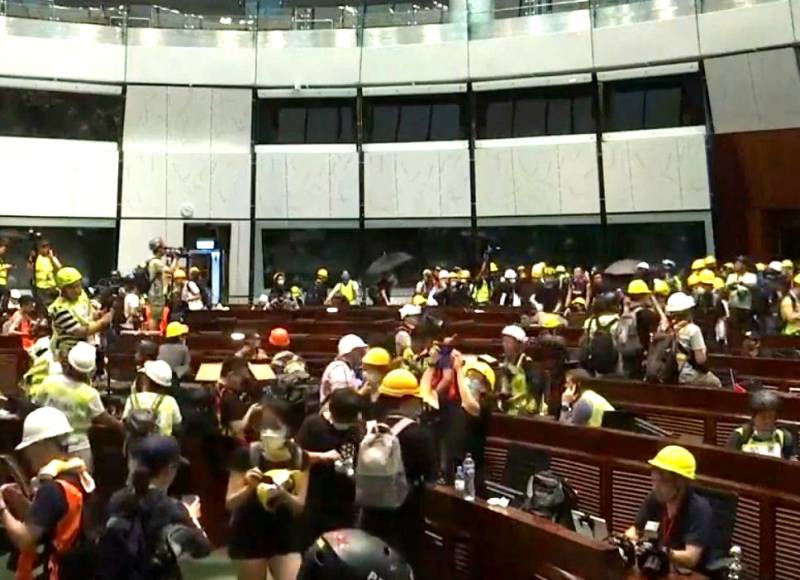 We have already reported that protesters besieged the Hong Kong Legislative Assembly and clashed with the police. Law enforcement officers were forced to use tear gas and batons, but these measures did not help.
For the first time in the history of Hong Kong, city authorities were forced to announce the highest, "red" level of anxiety. Employees and visitors to the Legislative Assembly building were urgently evacuated.
When the police were forced to temporarily move away from the entrance to the regional parliament building, the protesters managed to break into its premises. In order to get inside the building, the demonstrators hit the strong glass with pipe cuts, pieces of metal protective fences, stones and other objects.
In the end, the protesters managed to completely seize the building, forcing the police out of it. Once in the premises of the regional parliament, the demonstrators began to paint graffiti walls.
The organization of the protests is evidenced by the equipment of their participants - they are dressed in yellow reflective vests, white or yellow helmets.
Some protesters brought flags of Great Britain to the seized Legislative Assembly, which is a rather vivid indication of their
political
sympathies.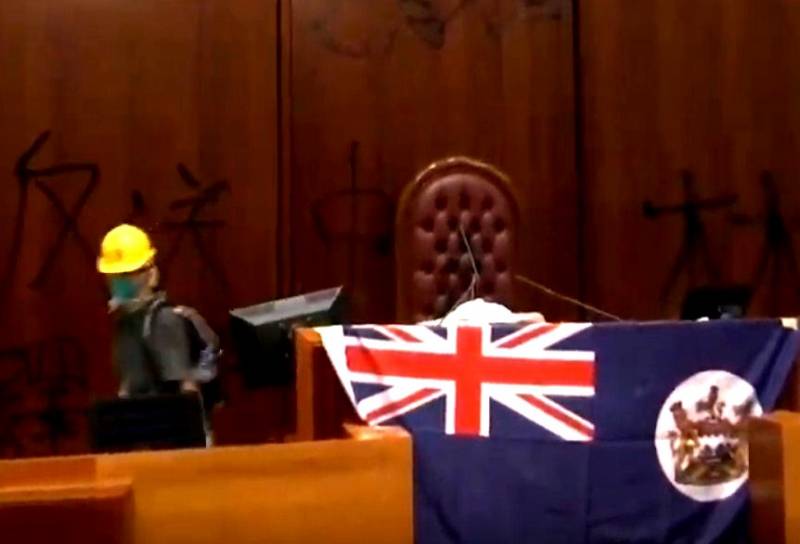 Chinese authorities suspect London may be involved in riots in Hong Kong. At least, Foreign Ministry Spokesman Gen Shuang urged Britain to "know its place" and not interfere in Hong Kong affairs.
The representative of the Ministry of Foreign Affairs of China was forced to make such a statement after British Foreign Minister Jeremy Hunt began to rant about the need to respect human rights and freedoms in Hong Kong, maintaining the autonomous status of the city, etc. Naturally, such words of the chief British diplomat caused a sharp reaction from the authorities of the Middle Kingdom.