For the first time in history, the US president entered North Korea. This happened during the meeting of Donald Trump and Kim Jong-un in the demilitarized zone separating the DPRK and the Republic of Korea.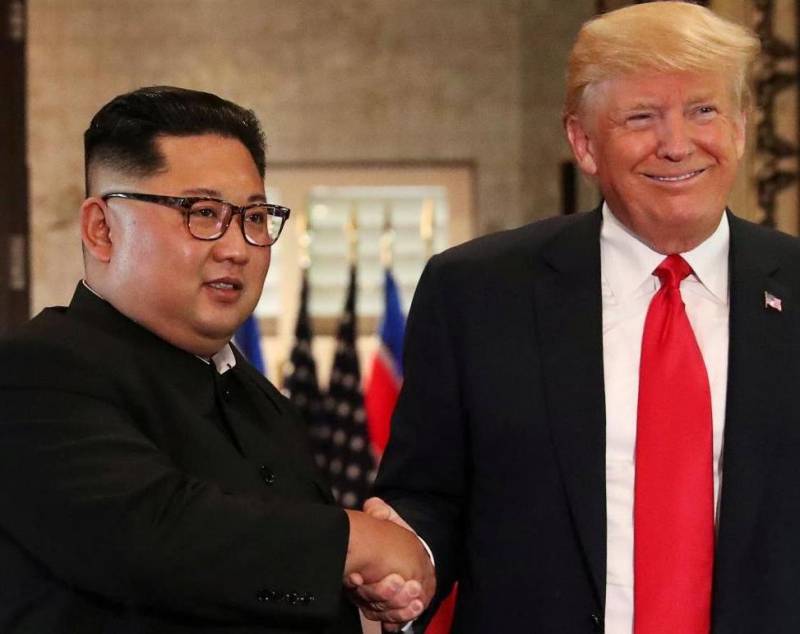 The North Korean leader and the American president shook hands, after which Donald Trump crossed the border line of the DPRK and, thus, turned out to be the first American president in history to enter North Korea.
In response, Kim Jong-un also crossed the border, only with the Republic of Korea, and entered South Korean land.
The meeting between Trump and Kim Jong-un, as the American president himself admitted, was "impromptu." This was confirmed by the North Korean leader himself.
Many people think that we agreed to meet with President Trump during the exchange of letters, but I was very surprised when I read the Twitter post last morning,
- said Kim Jong-un.
As it turned out, leaving the GXNUMX summit in Osaka, Trump promised the President of the Republic of Korea, Moon Jae In, to visit the demilitarized zone. He noted that it would be nice to meet with Kim Jong-un and greet the North Korean leader.
As a result, a historical meeting, which did not last so long, took place.
Recall that US President Donald Trump, despite the problematic relationship between Washington and Pyongyang, does not hide his good attitude to Kim Jong-un.
This is not the first meeting of the heads of state, with Trump and Kim inclined to demonstrate mutual disposition, despite
political
contradictions.
I hope to lift these sanctions. I don't like the sanctions imposed on this country. I hope, but sanctions remain
- summed up Donald Trump the results of his short-term, but historical meeting with Kim Jong-un.