On June 27, 2019, traffic in municipal roads was blocked immediately in five districts of the Irkutsk region due to heavy rains and floods. The water level in the rivers rose by an average of two meters. Flooded whole streets of cities and villages. The damage has yet to be calculated.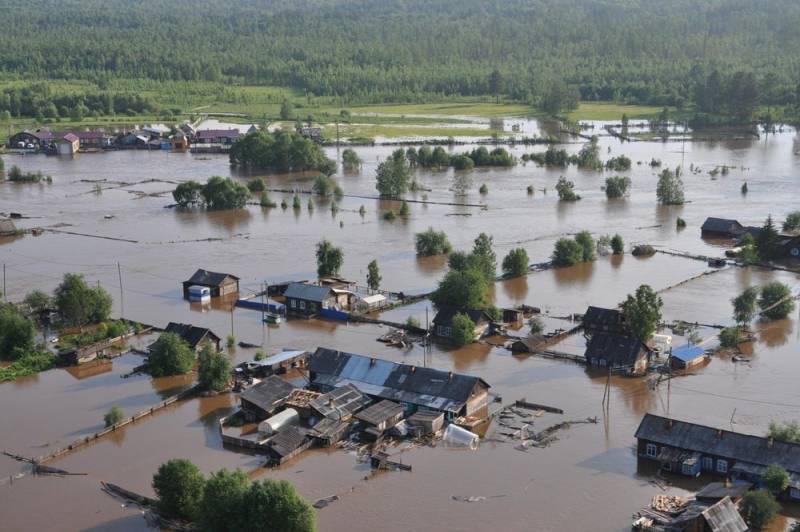 A large group of settlements found themselves in the flood zone due to the heavy rain front in the Angara area. The rivers Uda and Bolshaya Belaya overflowed the banks. In a number of settlements, an emergency mode has been introduced.
In the city of Nizhneudinsk 110 houses were flooded, where 275 people live. In the villages of Shumsky, 76 household plots are flooded and there is a risk of flooding of 50 houses. In the village of Alygger, 30 houses were flooded, where 72 people live, but there is a threat of flooding of another 191 houses, where 498 people live. In the villages of Serebrovo and Solyanaya, 344 houses with 839 people are flooded. In the village of Talaya 51 household plots have been flooded. In the city of Tulun, flooding threatens 887 homes.
The evacuation of residents. Four temporary accommodation centers for 1 thousand people have already been prepared for them. At the same time, many residents refuse to leave home, fearing for their property.
The regional hydrometeorological center predicts a further rise in water level in five rivers, since heavy precipitation is expected (heavy, long rains, thunderstorms, hail and increased northwestern wind up to 15 meters per second).