The tragedy ended with the flight of the AN-24 aircraft of the Angara airline on the route Nizhneangarsk - Ulan-Ude.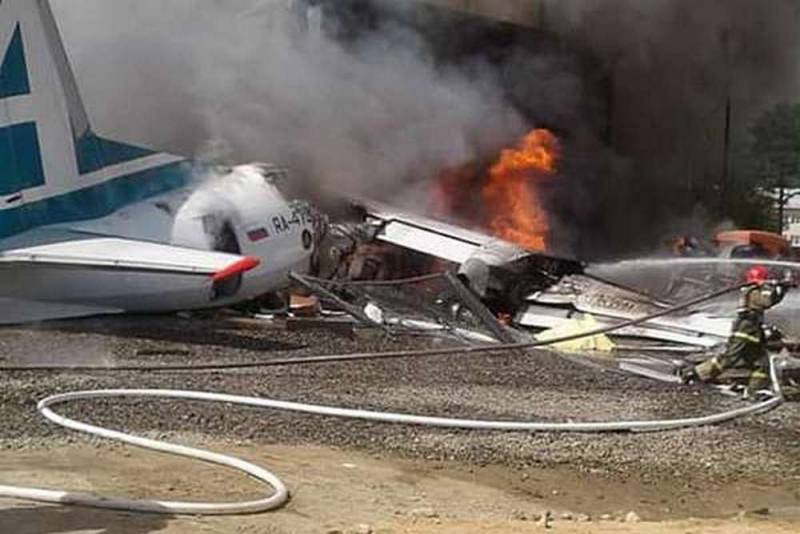 According to the press secretary of the Government of Buryatia, Aleksey Fishev, one of the engines failed at AN-24 immediately after takeoff from the Nizhneangarsk airport of the Severobaikalsky district and the pilots decided to return to the airport.
During landing, for an unknown reason, the airliner rolled out of the runway to a distance of about 100 meters and crashed into
technical
construction, which led to a fire on board.
As a result, two pilots died, out of 43 passengers 19 were taken to the hospital in Nizhneangarsk with injuries of varying severity. Currently, rescuers and firefighters work at the scene of the tragedy.
One of the passengers of the flight took off landing from the cabin:
The circumstances of this tragedy are somewhat similar to the SSJ-100 crash at the Moscow Sheremetyevo airport, which occurred in May: problems during take-off and unsuccessful emergency landing.
Upon the incident, the East-Siberian SU CC in transport initiated a criminal case on violation of flight safety rules, which resulted in the death of people through negligence.
Accordingly, the Interstate Aviation Committee (IAC) and the territorial administration of the Federal Air Transport Agency will conduct their investigation into the causes of the tragedy.