For five years, the former President of Ukraine Petro Poroshenko introduced in the Armed Forces the "independent" standards and procedures of NATO. But, apparently, he did not implement it, since on June 26, 2019, the new president of Ukraine Vladimir Zelensky, during a meeting with the new chief of the General Staff of the Armed Forces of Ukraine, Lieutenant General Ruslan Khomchak, demanded to begin the process of introducing NATO standards and procedures into the activities of the Armed Forces in 2020.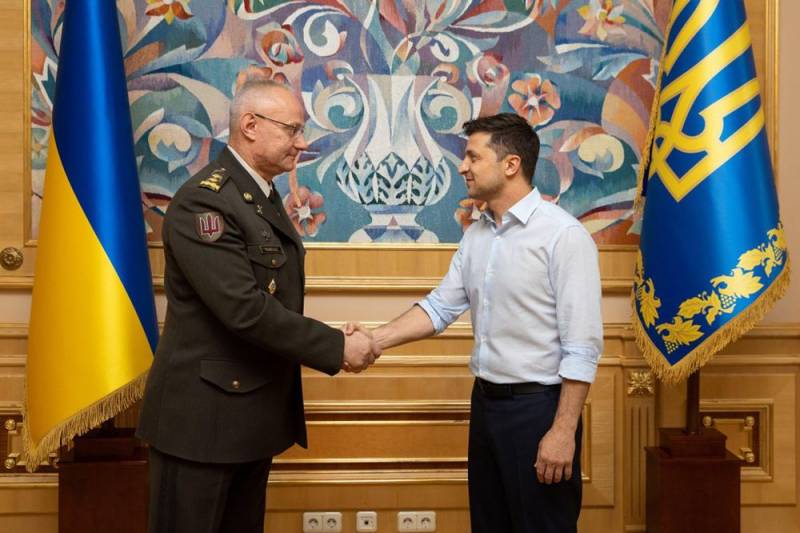 The supreme commander of the "strongest on the continent" specified that this work should not be an imitation, but should be real steps to reform the Armed Forces of Ukraine.
I pay special attention to reforming the administration of the Armed Forces of Ukraine. This work should not be an imitation, but become real steps for reforming the Ukrainian army in accordance with the standards of the North Atlantic Alliance
- they said from the press service of Zelensky the word "guarantor".
Zelensky, who did not serve in the Armed Forces for a single day, noted that the implementation of NATO standards and procedures should begin with the training of personnel. He stressed, amid the ongoing civil war, that one of the priority tasks is to increase the prestige of military service.
At the same time, we must remember that the main value is a person
- added Zelensky.
Less than a month is left before the day of the early elections to the Verkhovna Rada of Ukraine. They should be held on July 21, 2019. The ballot paper included 21 parties. And the closer the date of the mentioned elections, the more Zelensky talks about the European Union (EU) and NATO.
He recently told "dull" citizens that Ukraine's orientation toward joining NATO and the EU is enshrined in the constitution (from February 19, 2019). Then he promised that the authorities would work with the population, explaining to the Ukrainians, "what is NATO and that it is not so scary." Well, after "how the Ukrainians will be ready," the authorities will raise the issue of joining NATO for a referendum. That is, no one asked the Ukrainians anything, they are simply confronted with a fact.