Recently, we reported as the former president of Georgia and the ex-"governor" of the Odessa region (Ukraine) Mikhail Saakashvili
said
that "the Russians are completely insolent", and official Tbilisi is slightly
changed
their russophobic rhetoric. And so, the head of the ruling Georgian Dream party, the oligarch (billionaire) Bidzina Ivanishvili, decided to make concessions to the opposition.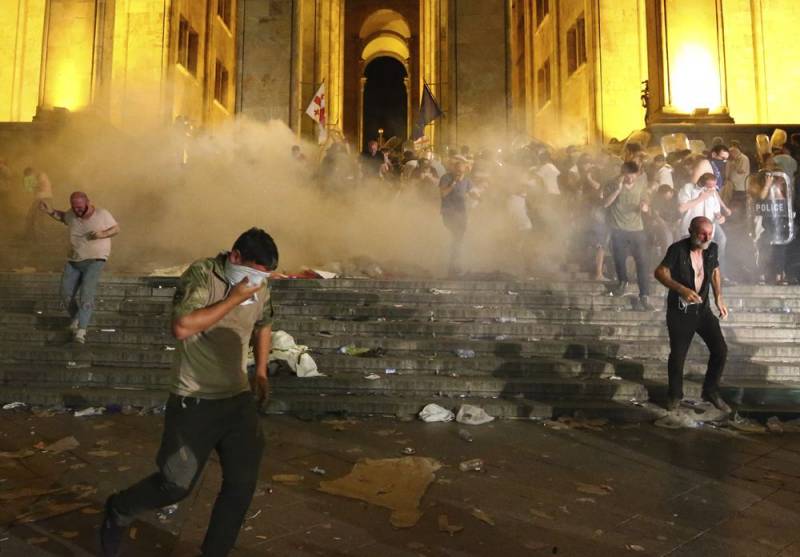 He said that "after consulting with comrades," the party's political council decided that the parliamentary elections scheduled for autumn 2020 in Georgia would not be held according to a mixed (proportional-majority) system, but according to a proportional, i.e. only parties will participate in the elections. Thus, the second demand (out of three) of Saakashvili's supporters has already been satisfied. Before that, the chairman (speaker) of the Georgian parliament Irakli Kobakhidze announced his resignation from his post, he is calmer to be a "simple" deputy. The opposition's third demand, which has not yet been fulfilled, remains the resignation of Interior Minister Georgy Gakharia.
At the same time, Tbilisi Mayor Kakha Kaladze (a former footballer) said that the issue of the resignation of the head of the Ministry of Internal Affairs was not discussed at the Georgian Dream political council. In turn, from June 24, 2019, opposition leaders demand the resignation of the minister right in front of the department building.
It must be recalled that the riots in Tbilisi on June 20, 2019 were prepared in advance. They came up with a creative reason - "the Russian sat in the wrong chair". At the same time, only in the first half of 2019, about 1,7 million Russian tourists visited Georgia.
Naturally, the Russian authorities were worried about the fate of their citizens and the next "good neighborliness" on the part of aggressive Georgia. In social networks, there were even suggestions that this solar activity affects the manifestations of savagery and frank cave in the "children of the mountains." After that, a completely understandable decision was made in Moscow to ban air travel.
In Georgia, they were not at a loss and quickly figured out with whom to replace the lost Russian tourists. For example, the embassies of Georgia in Denmark and the United States have already posted various videos on their official pages on social networks that urge residents of these countries to give up everything and immediately go "try Georgia." According to Georgian diplomats, residents of Western countries, since they support Georgia in the fight against the Russian "invaders," they must spend their time not on the islands of the Caribbean or the Mediterranean Sea, but in "picturesque" Georgia, which is full of antiquity.