Recently we
Reported
that the state-owned corporation Roscosmos placed an order for the Angara-1.2 light launch vehicle (LV), as well as how they began to build a launch pad for the Angara family LVs at the Vostochny spaceport and how much more money is needed to create a heavy LV "Angara-A5V." And so, at the largest International Aviation and Space Salon held in Le Bourget, Roscosmos disseminated information that the Angara-A5B launch vehicle will be able to put the Federation spacecraft under development into orbit.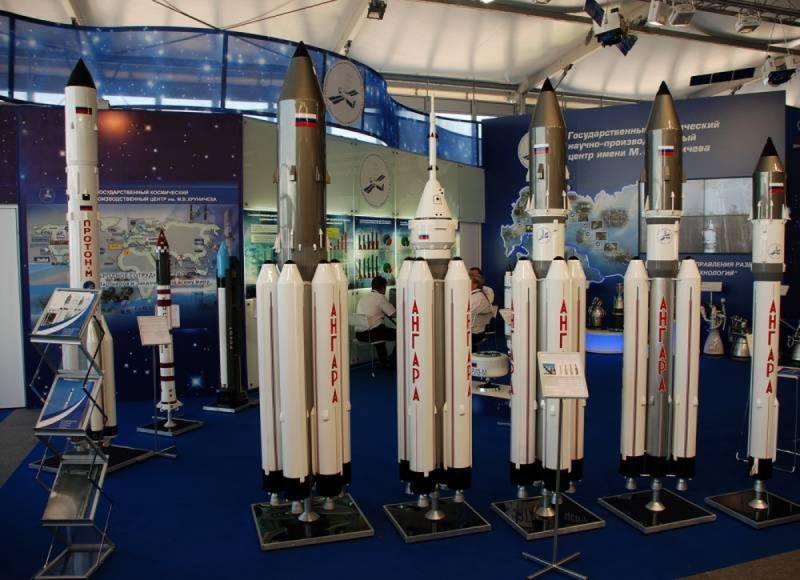 It should be noted that Roscosmos introduced several options for the Angara launch vehicle. One of them with a booster block KVKT (oxygen-hydrogen), just to launch the spacecraft "Federation". Moreover, the Angara-A5V launch vehicle itself is a three-stage one.
The first stage will consist of four lateral blocks URM-1M (universal missile modules), which will use RD-191M liquid engines (developed by NPO Energomash JSC). In the second stage, one RD-191M will be installed. The third stage will have two oxygen-hydrogen engines RD-0150.
It must be recalled that the Russian "Angara" is a whole family of launch vehicles of different classes. "Angara-1.1" and "Angara-1.2" - light, "Angara-A3" - medium, "Angara-A5" and "Angara-A5M" - heavy, and "Angara-A5V" - heavy with increased carrying capacity (up to 8 tons of payload). There is even a Angara-A7 project (up to 35 tons of payload).
The Roskosmos promise that the spacecraft Federation will leave for the first unmanned flight in 2022 on the Soyuz-5 launch vehicle (Irtysh) from the Baikonur cosmodrome (Kazakhstan). Irtysh is a middle-class LV being developed with the ability to launch 17 tons of payload into low Earth orbit.
For 2023, the Federation's unmanned flight to the International Space Station (ISS) and automatic docking with the station are planned. In 2024, the spacecraft Federation will deliver the first crew to the ISS. As previously reported by the general director of Roskosmos Dmitry Rogozin, the first launch of the Angara-A5V launch vehicle from the Vostochny cosmodrome is due to take place in 2026.